PRODUCTION AND QUALITY EVALUATION OF READY TO EAT EXTRUDED SNACKS FROM FLOUR BLENDS OF ACHA-COWPEA AND SWEET POTATO STARCH
S. C. Ubbor

D. C. Arukwe

V. C. Ezeocha

O. N. Nwoso

B. N. Iguh

O. G. Nwibo
Keywords:
Acha, cowpea, extruded snacks, quality assessment, sweet potato
Abstract
Acha is a potential food security crop that contributes significantly to people's diet, especially in developing countries such as Nigeria. The suitability of acha-cowpea composite flour and sweet potato starch in the production of extruded snacks was investigated. Acha flour (ACF), cowpea flour (CPF)and sweet potato starch (SPS),were mixed in various proportions of percentage weights (ACF:CPF:SPS)and were used to produce extruded snacks totaling 7 samples: 100:0:0, 90:5:5, 85:5:10, 75:5:20, 70:5:25:, 65:5:30 and50:0:50.The flour blends and starch mixes were analyzed for functional properties while the extruded snacks were evaluated for proximate, physicochemical and sensory properties. There was significant differences (p<0.05) in the functional properties of the flour and starch blends. Oil and water absorption capacity reduced as the proportion of SPS increased while the wettability followed the same trend. Foam capacity and foam stability were higher in all the blends containing cowpea flour. Gelatinization temperature was highest in blends with equal proportions of acha and sweet potato starch.The proximate composition of the extruded snacks were significantly difference (p<0.05) amongst the samples. The result showed that all the samples with cowpea flour had higher protein and ash contents than the control. Samples with 90% AF, 5% SPS and 5% CF performed best in sensory scores particularly in terms of appearance, taste, texture and general acceptability. However, all the samples were generally accepted. It was concluded that nutritious extruded snacks with acceptable sensory qualities can be produced from blends of acha-cowpea flour and sweet potato starch.
References
Acuña, S. P. C., Gonzalez, J. H. G. and Torres, I. D. A. (2012). Physicochemical Characteristics and Functional Properties of Vitabosa (Mucuna deeringiana) and Soybean (Glycine max). Ciência e Tecnologia de Alimentos, Campinas, 32, 98-105.

Adeola, A. A., Bamgbose, O. O. and Ohizua, E. R. (2019). Proximate and functional properties of Orange-fleshed sweet potato/pigeon pea flour blends and extrudates. Applied Tropical Agriculture, 24(1): 1-12.

Agbogidi, O.M. (2010). Response of six cultivars of cowpea (Vigna unguiculata (L.)Walp) to spent oil. African Journal of Food Science and Technology, 1(6): 139-142.

Agugo, U.A., Okereke, T.O. and Anya, K.M. (2013).Investigating the nutrient composition and anti-nutritional factors of Akidi (Vigna unguiculata).International Organization of Scientific Research, 5(4): 32-35.

Anon, A. H., Fagbohoun, J. B., Koffi, A. G., Anno, H. F. A. and Kouamé, L. P. (2021). Functional Properties of Composite Flours Produced with Ivorian Taro (Colocasia esculenta L. Cv Fouê) Corms Flour and Wheat (Triticum aestivum L.) Flour. GSC Biological and Pharmaceutical Sciences, 15(03): 164–176.

Awuchi, C. G., Igwe, V. S. and Echeta, C. K. (2019). The Functional Properties of Foods and Flours. International Journal of Advanced Academic Research, 5(11): 139–160.

Ayo, J. A., Ojo, M. O., Omelagu, C. A. and Najime, M. K. (2018). Proximate, phytochemical composition and sensory quality of acha –turmeric flour blend and biscuits. Asian Food Science Journal, 5(2): 1-16.

Bello, M. O., Falade, O. S., Adewusi, S. R. A. and Olawore, N. O. (2008). Studies on the chemical compositions and anti-nutrients of some lesser known Nigeria fruits. African Journal of Biotechnology, 7(21):3972-3979.

Ayenlere, A.E., Mohammed, A.B., Dutse, F., Abdullahi, M. and Mohammed-Lawal, A. (2012).An assessment of the economics of maize-cowpea cropping system in Ogun area of Kwara State.Nigerian Biological and Environmental Sciences. Journal for the Tropics, 9(1): 39-43.

Bordoloi, R. and Ganguly, S. (2014). Extrusion technique in food processing and review on its various technological parameters.Indian Journal of Science and Technology, 2(1): 1-3.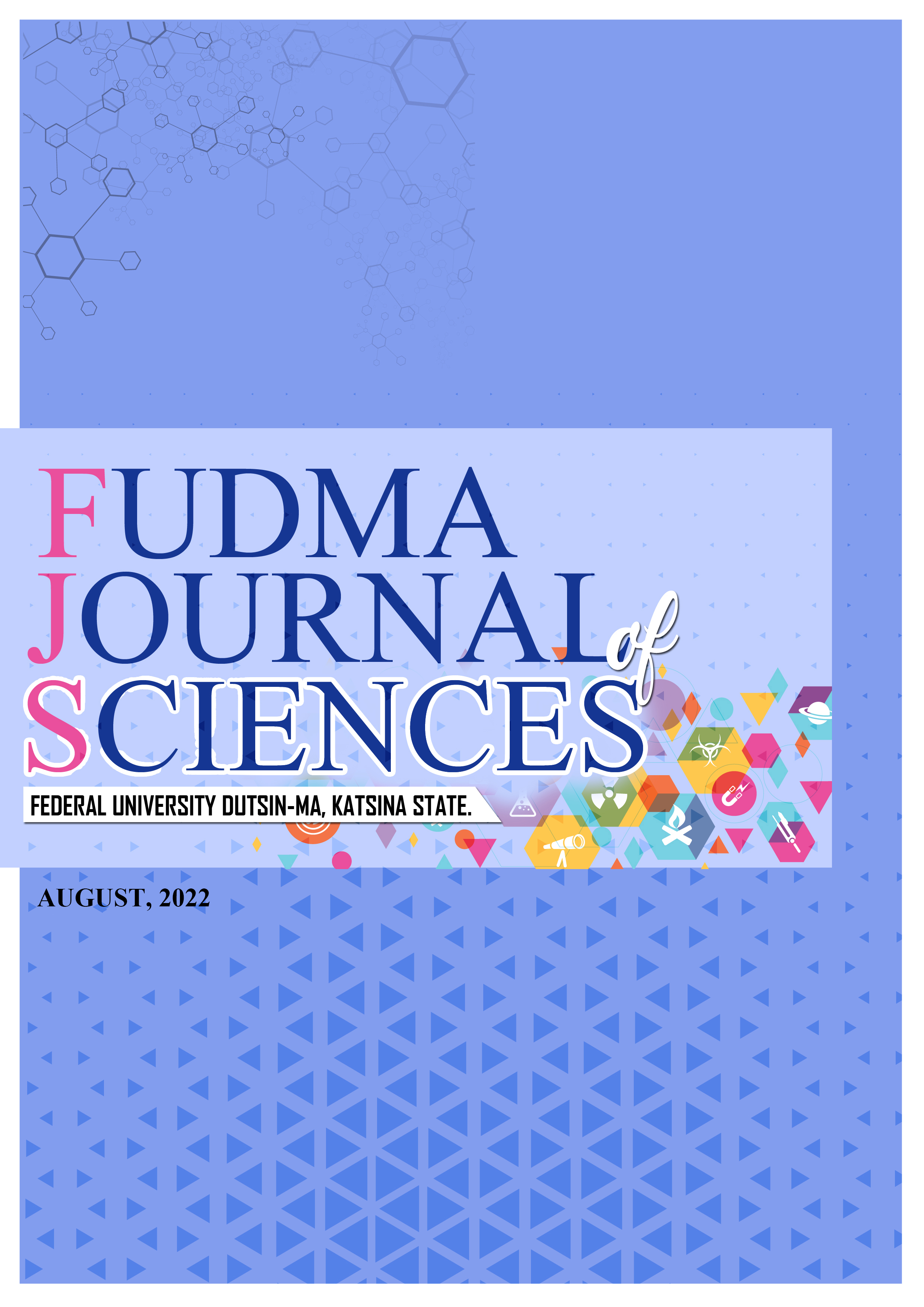 How to Cite
UbborS. C., ArukweD. C., EzeochaV. C., NwosoO. N., IguhB. N., & NwiboO. G. (2022). PRODUCTION AND QUALITY EVALUATION OF READY TO EAT EXTRUDED SNACKS FROM FLOUR BLENDS OF ACHA-COWPEA AND SWEET POTATO STARCH. FUDMA JOURNAL OF SCIENCES, 6(4), 245 -153. https://doi.org/10.33003/fjs-2022-0604-1071
Section
Research Articles
Copyright (c) 2022 FUDMA JOURNAL OF SCIENCES
This work is licensed under a Creative Commons Attribution 4.0 International License.
FUDMA Journal of Sciences