HEALTH RISK ASSESSMENT OF METAL CONTENT IN TUMERIC (Curcuma longa) CULTIVATED IN MARO FARMLANDS KAJURU LGA, KADUNA STATE, NIGERIA
Godwin Asoconom Allems

A. U. Uduma

O. J. Okonola
Keywords:
Curcuma longa powder, metal concentration, Health risk assessment
Abstract
Turmeric powder (Curcuma longa) is a yellow powder obtained by grinding dried matured rhizomes. Curcuma longa is utilized in culinary and cosmetic preparations, as well as medicinal formulations. It's available in Kajuru LGA, Kaduna state, Nigeria's Maro ward. The purpose of this study was to carry out a health risk assessment of Na, Mg, K, Ca, and Fe metals in turmeric cultivated within Maro, Chibiya, Karamai, and Angwan Gamu farm lands. Using the Perkin Elmer pin AAcle 900H, four Curcuma longa samples were obtained from diverse fields and subjected to AAS analysis following wet digestion to assess metal contents. The data was examined statistically using analysis of variance (ANOVA).  Ca>Mg>Na>K>Fe were found to be the most abundant metals in Curcuma longa. The maximum level advised by the World Health Organization for all elements was not exceeded (WHO). At P>0.05, there were substantial differences in metal content in Tumeric across all farmlands. Consumers of Curcuma longa cultivated in Maro will not be exposed to any potential health problems because the Target Hazard Quotient (THQ) value of all metals was less than one and the Hazard Index (HI) value for Fe metal was less than one. It was suggested that more research be done on the health risks of other metal content in Curcuma longa rhizome.
References
A. Mohammadi, A. Zarei, S. Majidi, A. Ghaderpouryd, Y. Hashempour, M. Saghi, A., M. Yousefih, N. Hosseingholizadehi, M. Ghaderpoori,. (2019). Carcinogenic and non-Carcinogenic health risk assessment of heavy metals in drinking water of Khorramabad, Iran, MethodsX 6 1642–1651.

Amadi POE,Adiele-Ezekiel C Ibe MN, Nzeakor FC .(2018). Turmeric Production, Processing and Marketing for Sustainable Agricultural Development in Nigeria. Journal of Community & Communication Research (JCCR). ISSN:2635-3318. www.jccr.org.ng.

Asagwara, J. O., Emeribe, E. O. and Enoch, L. N. (2018). Minerals Determination of Turmeric (Curcuma Longa ) Leaves and Rhizomes.Direct Research journal of Biology and Biotechnology. Sci. Pg.46-50.

B. Ghasemidehkordi, A. Malekirad, H. Nazem, M. Fazilati, H. Salavati, N. Shariatifar, M. Rezaei, Y. Fakhri, A. Khaneghah,.(2018). Concentration of lead and mercury in Collected vegetables and herbs from Markazi province, Iran: a non- Carcinogenic risk assessment, Food Chem. Toxicol. 113 ,204–210.

Cooper TH, Clark JG, Guzinski JA .(1994). In: Ho CT, Osawa T, Rosen T (Eds.) Food phytochemicals for cancer prevention, spices in herbs. American Chemical Soceity: Washington DC. 23:231- 236.

Gopinathan NM, Singh SH, Chitra KU. (2011). In vitro antiplatelet activity-ethanolic extract of rhizome of Curcuma longa Linn. JIBR. 2(2):138‐142. https://www.hindawi.com/journals/bmri/2021/6678931/tab6/

Mary Millikan. (2012). Nutritional Metals in Foods by AAS, Atomic Absorption Spectroscopy, Dr. MuhammadAkhyar Farrukh (Ed.), ISBN: 978-953-307-817-5.

M. Amer, B. Sabry, D. Marrez, A. Hathout, .(2019). A. Fouzy, Exposure assessment of heavy metal residues in some Egyptian fruits, Toxicol. Rep. 6 (2019) 538–543.

M. Meseret, G. Ketema, H. Kassahun, .(2020). Health risk assessment and determination of some heavy metals in commonly consumed traditional herbal preparations in Northeast Ethiopia, J. Chem. 2020 (2020) 1–7.

Olatunde A, Joel EB, Tijjani H .(2014). Anti-diabetic activity of aqueous extract of Curcuma longa (Linn) rhizome in normal and alloxaninduced diabetic rats. Researcher. 6(7):58-65.

Peter KV (2000). Informatics on turmeric and ginger. India Spices. 36 (2):12-14.

Report of a joint FAO/WHO expert consultation,. (1998).Human vitamin and mineral requirements Bangkok, Thailand, pp. 151-267

S. Khan, R. Farooq, S. Shahbaz, M. Khan, M. Sadique.(2009). Health risk assessment of Heavy metals for population via consumption of vegetables, World Appl. Sci. J. 6 1602–1606.

Sahdeo Prasad and Bharat B. Aggarwal (2011). Turmeric, the Golden Spice

Sawant RS, Godghate AG .(2013). Qualitative phytochemical screening of rhizomes of Curcuma longa Linn. International Journal of Science, Environment and Technology. 2(4):634 – 641.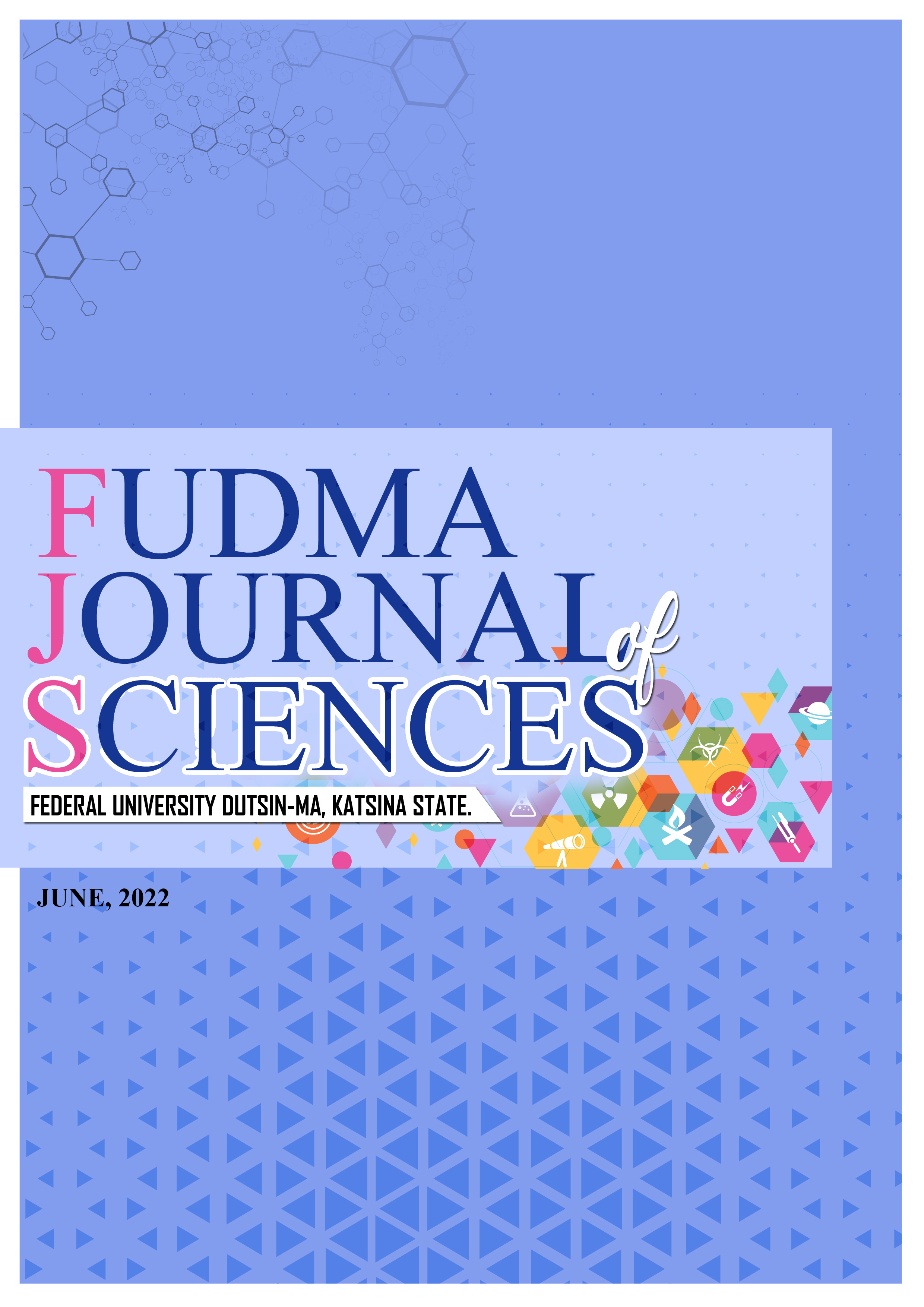 How to Cite
AllemsG. A., UdumaA. U., & OkonolaO. J. (2022). HEALTH RISK ASSESSMENT OF METAL CONTENT IN TUMERIC (Curcuma longa) CULTIVATED IN MARO FARMLANDS KAJURU LGA, KADUNA STATE, NIGERIA. FUDMA JOURNAL OF SCIENCES, 6(3), 36 - 40. https://doi.org/10.33003/fjs-2022-0603-968
Section
Research Articles
Copyright (c) 2022 FUDMA JOURNAL OF SCIENCES
This work is licensed under a Creative Commons Attribution 4.0 International License.
FUDMA Journal of Sciences