DEVELOPMENT OF RIG HANGING HYDRO TURBINE BASED ON WASTE WATER DISCHARGE AT CHALLAWA INDUSTRIAL AREA OF KANO STATE
F. A. Umar

S. M. Lawan

C. N. Okpala

A. Aminu
Keywords:
Hydro; micro hydro; renewable energy; waste water
Abstract
Design of hydroelectricity system is employed here in an effort to produce electric energy using an exhaust waste water of steam power plant. The major concern in this work is how the system is designed, selection of site and resources. The system after designed and fabricated was mounted at waste water outlet for proof run for about three months period. The result obtained exhibit the overall design is feasible for the sensitive site application
References
Abidin, Zainal, & Othman, Ir. (2005). The future of hydropower in Sarawak, Borneo.

Albani, A, Ibrahim, MZ, Yong, KH, & Muzathik, AM. (2013). Wind Energy Potential Investigation and Micrositting in Langkawi Island, Malaysia. Wind Engineering, 37(1), 1-12.

Bekele, Getachew, & Tadesse, Getnet. (2012). Feasibility study of small Hydro/PV/Wind hybrid system for off-grid rural electrification in Ethiopia. Applied Energy, 97, 5-15.

Deichmann, Uwe, Meisner, Craig, Murray, Siobhan, & Wheeler, David. (2011). The economics of renewable energy expansion in rural Sub-Saharan Africa. Energy policy, 39(1), 215-227.

Evers, Arno A. (2010). The Hydrogen Society: More Than Just a Vision? : Hydrogeit Verlag.

Ibrahim, Noor Azliza. (2012). Modeling of micro hydroelectric system design. Universiti Tun Hussein Onn Malaysia.

Lawan, Salisu Muhammad, Abidin, Wan Azlan Wan Zainal, Masri, Thelaha Bin Hj, Chai, Wang Yin, & Baharun, Azhaili. (2015). A Methodology for Wind Energy Evaluation in Complex Terrain Regions of Sarawak. International Journal on Electrical Engineering and Informatics, 7(2), 264.

Lawan, SM, Abidin, WAWZ, Masri, T, Chai, WY, & Baharun, A. (2017). Wind power generation via ground wind station and topographical feedforward neural network (T-FFNN) model for small-scale applications. Journal of Cleaner Production, 143, 1246-1259.

Liming, Huang. (2009). Financing rural renewable energy: a comparison between China and India. Renewable and Sustainable Energy Reviews, 13(5), 1096-1103.

Madlener, Reinhard, Kumbaroğlu, Gürkan, & Ediger, Volkan Ş. (2005). Modeling technology adoption as an irreversible investment under uncertainty: the case of the Turkish electricity supply industry. Energy Economics, 27(1), 139-163.

Mathew, Sathyajith. (2006). Fundamentals, Resource Analysis and Economics: Springer, ISBN: 3540309055.

Mohibullah, Mohd, Radzi, Amran Mohd, & Hakim, Mohd Iqbal Abdul. (2004). Basic design aspects of micro hydro power plant and its potential development in Malaysia. Paper presented at the Power and Energy Conference, 2004. PECon 2004. Proceedings. National.

Ngan, Mei Shan, & Tan, Chee Wei. (2012). Assessment of economic viability for PV/wind/diesel hybrid energy system in southern Peninsular Malaysia. Renewable and Sustainable Energy Reviews, 16(1), 634-647. doi: 10.1016/j.rser.2011.08.028

Nguyen, Nhan T, & Ha-Duong, Minh. (2009). Economic potential of renewable energy in Vietnam's power sector. Energy policy, 37(5), 1601-1613.

Olivier, Jos GI, Peters, Jeroen AHW, & Janssens-Maenhout, Greet. (2012). Trends in global co2 emissions 2012 report: PBL Netherlands Environmental Assessment Agency.

Pereira, Marcio Giannini, Freitas, Marcos Aurélio Vasconcelos, & da Silva, Neilton Fidelis. (2010). Rural electrification and energy poverty: empirical evidences from Brazil. Renewable and Sustainable Energy Reviews, 14(4), 1229-1240.

Shekarchian, M, Moghavvemi, M, Mahlia, TMI, & Mazandarani, A. (2011). A review on the pattern of electricity generation and emission in Malaysia from 1976 to 2008. Renewable and Sustainable Energy Reviews, 15(6), 2629-2642.

Tian, Chuan Min, Jaffar, Mohd Narzam, Ramji, Harunal Rejan, & Abdullah, Mohammad Omar. (2015). Custom design of a hanging cooling water power generating system applied to a sensitive cooling water discharge weir in a seaside power plant: A challenging energy scheme. Energy, 81, 511-518.

Yeo, Jason KS, Chen, S, Shen, WX, & Chua, HS. (2014). Energy evaluation and smart microgrid for rural Sarawak. Paper presented at the Innovative Smart Grid Technologies-Asia (ISGT Asia), 2014 IEEE.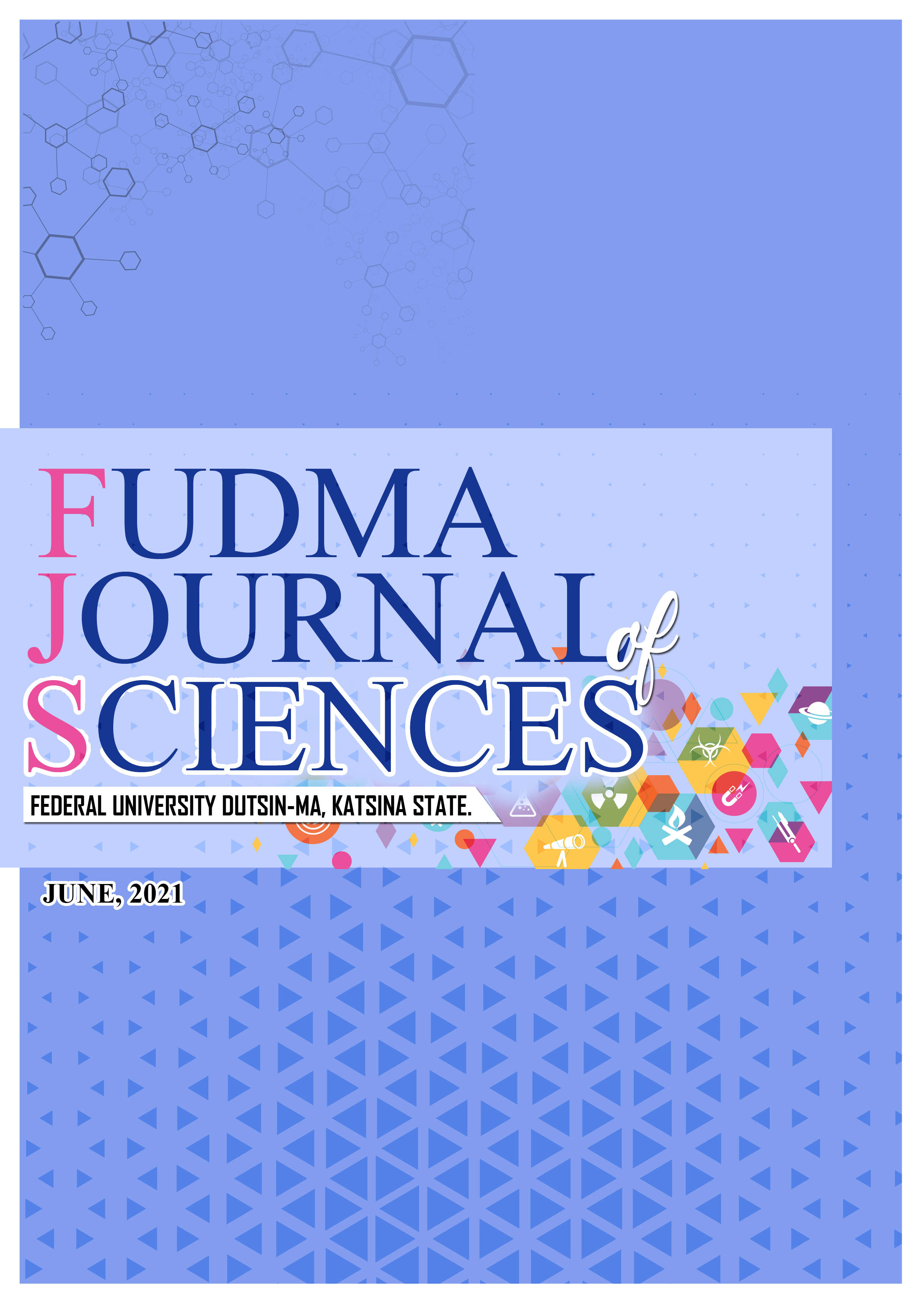 How to Cite
UmarF. A., LawanS. M., OkpalaC. N., & AminuA. (2021). DEVELOPMENT OF RIG HANGING HYDRO TURBINE BASED ON WASTE WATER DISCHARGE AT CHALLAWA INDUSTRIAL AREA OF KANO STATE. FUDMA JOURNAL OF SCIENCES, 5(2), 320 - 326. https://doi.org/10.33003/fjs-2021-0502-622
Section
Research Articles
Copyright (c) 2021 FUDMA JOURNAL OF SCIENCES
This work is licensed under a Creative Commons Attribution 4.0 International License.
FUDMA Journal of Sciences