COMMUNITY PERSPECTIVE OF BOKO HARAM REPENTANT TERRORIST IN MAIDUGURI METROPOLITANS COUNCIL BORNO, NIGERIA
Muhammed Bukar Maina

Yobe State University

Babakura Muhammed Abba

Musa Maiva Isa

Nura Khalil Umar
Keywords:
Insurgency, Boko Haram, Repentant, Terrorist
Abstract
The study assessed people's willingness to accept repentant Boko Haram and the role of Government and Non-Governmental organizations toward public risk-free coexistence campaigns. Primary and secondary roots of data were used for this study. First, a structured questionnaire was used to source data from 382 sampled respondents. The results revealed that most respondents were affected by Boko haram, 74%, while 26% were not. Furthermore, the study also showed that most respondents are not ready to accept Boko Haram Repentance, with 79% because they killed their relatives, burned their social environments, caused hardship, and migrated. Also, they fear that when the Government fails to fulfil their promise, they can rejoin the group because they are not to be trusted. At the same time, with few people, 21% are ready to accept the Boko Haram repentance because they believe peace will be restored. Some of the reasons are some were forced to join the group, some were their relatives, and lastly, some were brainwashed. Finally, the following recommendations were proffered. Firstly Government and NGOs should increase their efforts to enlighten the people to accept Boko Haram because, based on the findings, enlightenment camping is not enough. Secondly, the Government should ensure they fulfilled their promise to Boko Haram repentance after they were integrated because if they fail, they can rejoin the group again.
References
Adibe, J. 'Should Nigeria have Released Boko Haram Suspects?'. The Conversation, 20 February 2020.
Anthony. A. E.(2019)." Implications of Boko Haram Insurgency on Integration: Evidences From Northern Nigeria". International Journal of Academic Research in Business and Social Sciences. Retrieved 2/01/2022, time 11:20 pm
Chiluwa, I., &Adegoke, A. (2013). Twittering the Boko Haram uprising in Nigeria: Investigating pragmatic acts in the social media. Africa Today, 59(3), 83-102.
Daura, M.M., Gisilanbe, A.M. and Waziri, M. (2001) Flood Plain Encroachment and Hazard Awareness in Urbanized Catchments: A Study of Ngadda Flood Plain in Maiduguri. In: Daura, M.M., Ogunnika, O., Irefin, D. and Balami, D., Eds., Environment and Development Issues in Sub-Saharan African, Seminar Series, Vol. 1. Faculty of Social and Management Sciences, University of Maiduguri, Maiduguri, 50-60. [Citation Time(s):1]
Daura, M.M. (2001) .The Physical Environment and Development: A Study of Borno Region. In: Daura, M.M., Ogunnika, O., Irefin, D. and Balami, D., Eds., Environment and Development Issues in Sub-Saharan African, Seminar Series, Vol. 1, Faculty of Social and Management Sciences University of Maiduguri, Maiduguri, 35-47. [Citation Time(s):1]
Daura, M.M. (2002) "Maiduguri" Atlas of Nigeria in Africa Atlasses. Bietlot, Belgium, 148-149. [Citation Time(s):1]
G.T.I (2019). Global Terrorism Index. A Publication of Institute for Economics and Peace; www.economicsand peace.org (assessed November 30, 2019)
Hamidu, M. A &Gambari, A. D. (2020). The concept of self-reliance: Understanding small and medium enterprises. Jos: Green hopes Publishers.
Kambar, L. M. &Filibus, S. B. (2017). Vocational guidance for nation building and self-reliance. Paper presented at the 14th zonal conference of the Nigerian Association of Educationists for national development held at the College of Education, Ikere-Ekiti, between 6th and 9th May.
Krejcie, R. V., & Morgan, D. W. (1970). Determining sample size for research activities. Educational and psychological measurement, 30(3), 607-610.
Malah, W.B. (2007) The Viability and Sustainability of Rainwater Harvesting for Domestic Uses in Maiduguri Metropolis. An Unpublished M.Sc. Dissertation, Department of Geography, University of Maiduguri, Maiduguri. [Citation Time(s):1]
Ngohi, B. U, and Ibrahim D. I. (2021)."Guilt Feelings among Boko Haram Repentant and Perceived Entrepreneurship to be engaged for Self-reliance: Counselling Interventions". International Journal of Advanced Research in Economics and Finance. Retrieved 12/02/2022, time 12:20 am
NPC (2022) National Population Commission, 2022. Maiduguri Projected Population. [Citation Time(s):1]
Odeh, I. C., Tor-Anyiin, T. A., Igoli, J. O., &Anyam, J. V. (2016). In vitro antimicrobial properties of friedelan-3-one from PterocarpussantalinoidesL'Herit, ex Dc. African Journal of Biotechnology, 15(14), 531-538.
Okoli, A.C and Iortyer, P. (2014) Terrorism and Humanitarian Crisis in Nigeria: Insight from Boko Haram insurgency. Global Journal of human-social science: Political Science: volume 14 Issue 1 Version 1.0 Year 2014, Retrieved 20/05/2022, time 1:20 pm
OlineNigeria(200).BornoState:PhysicalSetting. http://www.onlinenigeria.com/links/bornoadv.asp [Citation Time(s):1]
Saheed., B. O. (2022). "Take them to Government House or Aso Rock": Community receptivity
to reintegration of Operation Safe Corridor's deracialized Ex-Boko Haram members in Northeastern Nigeria. https://www.tandfonline.com/loi/oass20 Retrieved 20/05/2022, time 2:50 Pm
Steven, R. K. &Alamson, D.C. (2017). Insurgency and social adjustment of adolescents in Borno State, Nigeria. Paper presented at a community group discussion organized by Taimako-CDI, Idris Alooma Polytechnic, Geidam, Yobe State, Nigeria. Between 28th and 29th, December.
Tarela, J. I, Singhb , D., Murphyc ,S. Jidongd, D. E , Porritte ,E.F and . Ayobif, E.E (2020) .Community perspectives of former terrorist combatants, militants and reintegration programs in Nigeria: A systematic review. School of Social Science Humanities and Law, Teesside University, United Kingdom School of Social Sciences, Nottingham Trent University, Nottingham, United Kingdom. Retrieved 20/05/2022, time 1:20 pm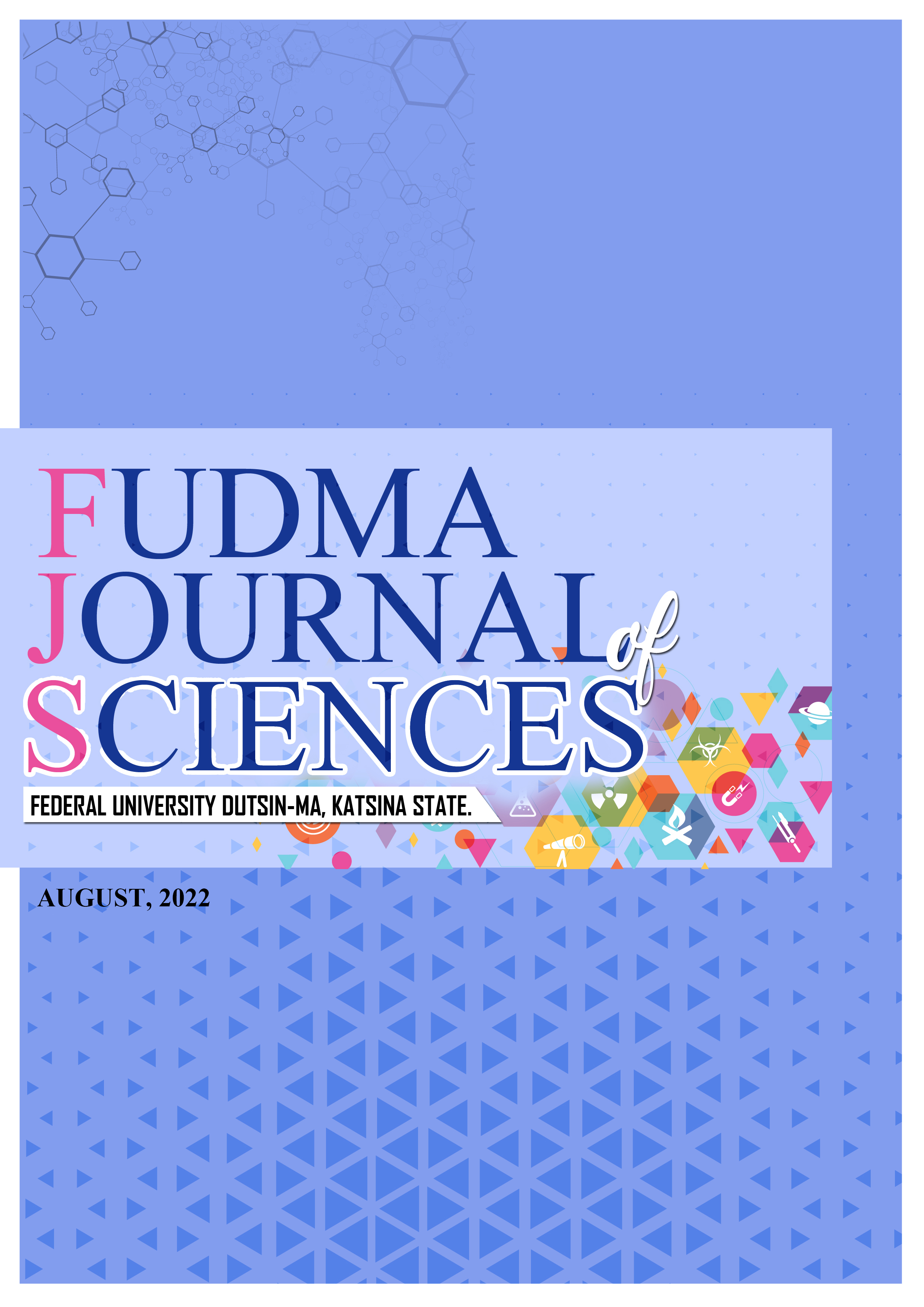 How to Cite
MainaM. B., AbbaB. M., IsaM. M., & UmarN. K. (2022). COMMUNITY PERSPECTIVE OF BOKO HARAM REPENTANT TERRORIST IN MAIDUGURI METROPOLITANS COUNCIL BORNO, NIGERIA. FUDMA JOURNAL OF SCIENCES, 6(4), 238 - 244. https://doi.org/10.33003/fjs-2022-0604-1070
Section
Research Articles
Copyright (c) 2022 FUDMA JOURNAL OF SCIENCES
This work is licensed under a Creative Commons Attribution 4.0 International License.
FUDMA Journal of Sciences