SOCIO-ECONOMIC EFFECTS OF SEASONAL DOMESTIC WATER SUPPLY AMONG KIBAKU PEOPLE, CHIBOK LOCAL GOVERNMENT AREA, BORNO STATE, NIGERIA
Musa Maiva Isa

Muhammed Bukar Maina

Yobe State University

Babakura Muhammed Abba
Keywords:
Access to water, dry season, rural areas, Sources of Domestic water, water scarcity, water supply
Abstract
Water is an essential commodity which affects life and livelihoods in the universe. This study examined the socioeconomic effects of seasonal domestic water supply among Kibaku People, Chibok Local Government Area, and Borno State, Nigeria. Random sampling was used to select 165 rural households and water samples for the study. Data collected were analyzed using descriptive and inferential statistics. The significant water sources were hand dug well. The average trekking time to the water source was 10-101 minutes (24.8%). And the households require an average of 162 liters of water per day. The major causes of water scarcity include insufficient rainfall, increased sunlight intensity, pollution of water sources and increased population from the oral interview. About 60% of them stated water scarcity harms their socioeconomic activities as its time consuming (36.1%), causes long queues (48%) and causes conflicts at the point of collection (15.8%). However focus group discussions, interviews and personal observation, respondents believed drinking water is inadequate in Chibok. It was concluded that water available for household use is not sufficient. However, it is safe but contains some elements, not of the World Health Organization standard for good potable water. It is recommended that the community build a hub for water collection and distribution close to the village center. The government should provide water infrastructures to increase the potable water supply
References
Bwala, J.M. Bwala and E.D.Dawha (2014). Spatio-Temporal Challenges of Domestic Water Supply in Hawul Local Government of Borno State.Geography and the Challenges of Development in Nigeria. Procedings of the 55th Annual Conference of the Association of Nigerian Geograpers (ANG).

Dzarma M. S.(2012). Analysis of The Demand and Supply of Water in Mubi Adamawa State Nigeria .Sc. Thesis Unpublised.pp.1-78.

M. U. Mijinyawa (2010). Application of Electromagnetic (E.M) and Resistivity Method in Ground Water Exploration In Chibok Town ,Nigeria. M.Sc. Thesis Unpublished. pp 1-26

WHO and UNICEF, 2000, Global Water Supply and Sanitation Assessment 2000 Report, WHO/UNICEF, Geneva/New York.

UNDP, 1999, Human Development Report 1999, Oxford University Press, New York, USA. United Nations General Assembly, 2000 Resolution 55/2: Millennium Declaration United Nations, New York.

Africa A. A. (2015).Concerns and Issues to overcome living conditions. Climate Change and water scarcity IESE Business School Unversity of navarra Nigeria.

Cherutich J, Timothy M, Quinter O (2015) Water access and sustainable rural livelihoods: a case of elementaita Division in Nakuru County, Kenya. Int J Sci Technol Soc 3(1):9–23. doi:https://doi.org/10.11648/j.ijsts.20150301.12 View ArticleGoogle Scholar

Fotso, J., Ezeh, A.C., Madise, N.J., & Ciera, J. (2007). Progress Towards The Child Mortality Millennium Development Goal In Urban Sub-Saharan.Africa:The Dynamics Of Population Growth, Immunization, And Access To Clean Water. BMC Public Health.pp1-34

Fong M., Wakeman W. And Bhushan A. (2003). Toolkit On Gender In Water And Sanitation.World Bank (2003). Report on Domestic water scarcity retrieved from Http://Www.Worldbank.Org/Gender/Resources/Checklist.Htm pp2-15.

Helen H. Ray and Zannah Kaloma Ali (2011) Contribution of Bama Local Government Council to Rural Water Supply Schemes in Borno State, Nigeria. Journal of Environmental Issues and Agriculture in Developing Countries,Vol. 3, No. 2A

Galadima, A, Garba Z.N.,Leke L., Almustapha M. N. and Adam I. K. (2011). Domestic Water Pollution Among Local Communities In Nigeria.Causes And Consequences. European Journal Of Scientific Research, Vol.52 No.4 Pp.592-603.

Gwandang Y. N. (2000). A History Of The Kibaku. Pp 1- 7 Luis S.P, Ian C, Iacovos I (2002) Coping with water scarcity. Int Hydrological Programme. IHP-VI Technical Documents in Hydrology No 58. UNESCO, Paris Google

KRISHNA H. J. 2005. The success of rainwater harvesting in Tex- as [online]. The Texas Manual on Rainwater Harvesting. 3rd ed. Austin, Texas. Texas Water Development Board. [Access 07.01.2019]. Available at http://www.twdb.texas.gov/ publications/brochures/conservation/doc/Rainwater HarvestingManual_3rdedition. pdf

Lori Lewi,(2017). Water project is a 501© Non-profit international water Charity /Privacy/Term of use © 2007-2018,17 Deport Street, 2nd Floor-Concord,NH-03301-USA

National Bureau of Statistics (NBS) - Federal Government of Nigeria (FGN) (2016). Nigeria – General Household Survey-Panel Wave 3 (Post Planting) 2015-2016, Third round. NGA-NBS-NGHPS-2016-v1.0

National Population Census (2006). Http://Www.Wikipedia.Retreived On Line 10th June,2016

Neher And Neher, (2011). Life Among The Kibaku People Of Nigeria.pp.34.

Population facts (2017). United Nation Department of Economic and social Affairs /Population Division No.2017/2 /www.unpoplation.org

Press MDG Report (2000). Retrieved 25th July 2016.

Schouten M.(2003).Strategy and performance of Water Supply and Sanitation.

Schouten T. and Moriarty P. (2003): From System to Service - draft The Hague, The Netherlands, IRC International Water and Sanitation Centre and ITDG, August 2003
United Nation World Water Development Report (2016).Water For People Water For Life.

JMP (Joint Monitoring Programme for Water Supply and Sanitation) 2008: Progress on Drinking Water and Sanitation special focus on sanitation. New York and Geneva: UNICEF and WHO

UNDP (1999) Human Development Report 1999, Oxford: Oxford UniversityPress Schouten T, Moriaty P (2003). Community Management; From System to Service in Rural Area. ITDG Publishing, London, U.K

WHO (2000). Global Water Supply And Sanitation Assessment 2000 Annual report Report World Health Organization And United Nations Children's Fund, 2000.wsscc.org/- - -/wsscc-report-annual-2008.

Water Aid (2002) Guidebook to Global water issues. Retrieved October 19 2006 from http://www.itt.com/waterbook/mega_cities.asp .

World HealTh Organization. (2006). Meeting The MDG Drinking Water And Sanitation Target: The Urban And Rural Challenge Of The Decade. Retrieved From Http://Www.Who.Int/Water_Sanitation_Health/Monitoring/Jmpfinal.Pdf.

WHO (2012). Health problem from Unsafe Water.retreived from www.hesperia.org. Health guides. August 10th ,2015.

World Health Organization (WHO), Office of the High Commissioner for Human Rights (OHCHR), Centre on Housing Rights and Evictions (COHRE), Water Aid, Centre on Economic, Social and Cultural Rights. The Right to Water.2003.http://www2.ohchr.org/english/issues/water/docs/Right_to_Water.pdf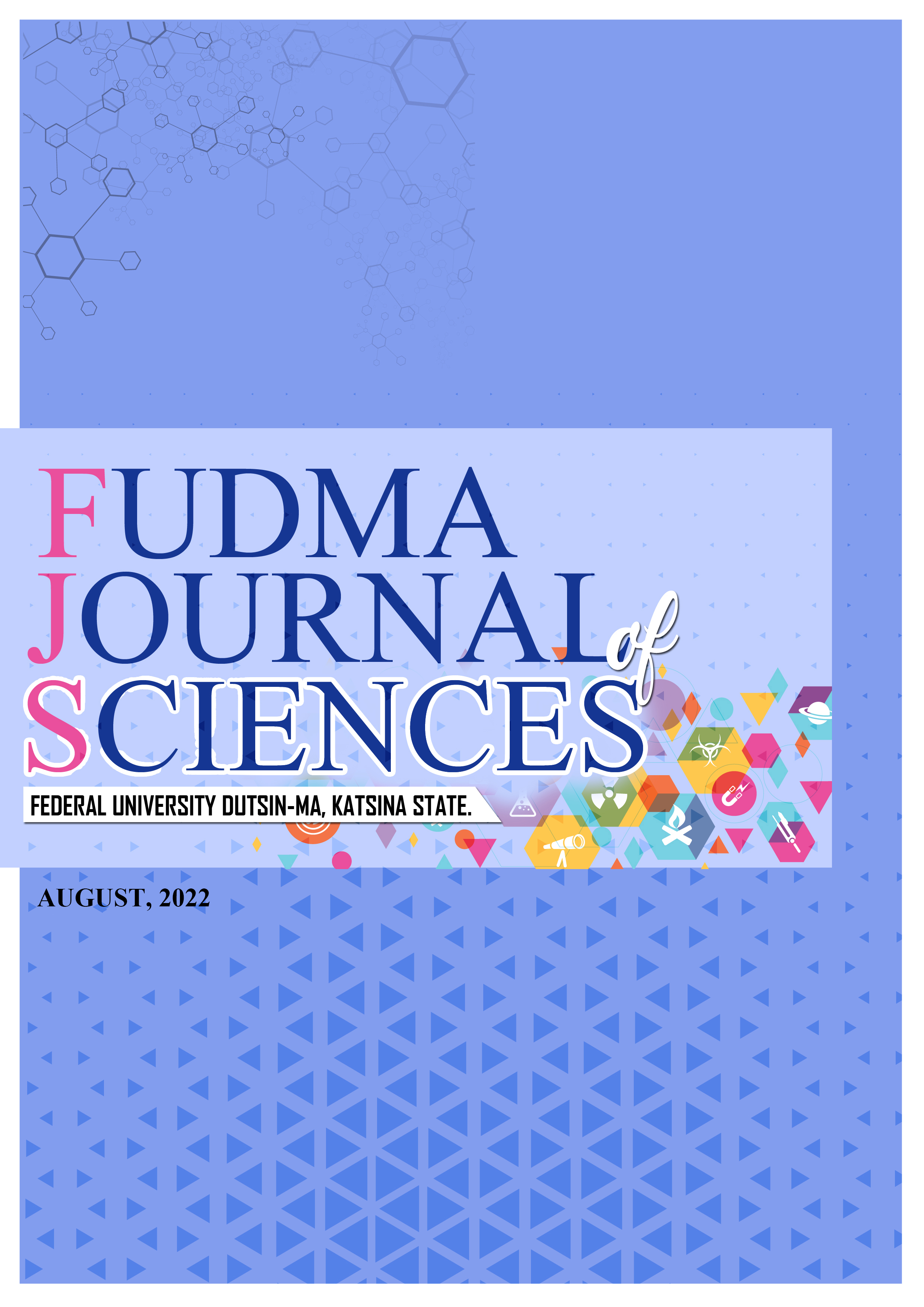 How to Cite
IsaM. M., MainaM. B., & AbbaB. M. (2022). SOCIO-ECONOMIC EFFECTS OF SEASONAL DOMESTIC WATER SUPPLY AMONG KIBAKU PEOPLE, CHIBOK LOCAL GOVERNMENT AREA, BORNO STATE, NIGERIA. FUDMA JOURNAL OF SCIENCES, 6(4), 195 - 202. https://doi.org/10.33003/fjs-2022-0604-1065
Section
Research Articles
Copyright (c) 2022 FUDMA JOURNAL OF SCIENCES
This work is licensed under a Creative Commons Attribution 4.0 International License.
FUDMA Journal of Sciences