CHARACTERISTICS BEHAVIOR OF PARTIALLY REPLACED CEMENT WITH KANKARA METAKAOLIN IN CONCRETE PRODUCTION
Mahmud Kudu

Nurudeen Yusuf
Keywords:
Cement, calcined kaolin, metakaolin
Abstract
Cement which is the basic constituent of concrete is posing a global threat through its adverse effects on environment during its production processes. It has become very popular that in the production of 1ton of cement, 1ton of CO2 is released into the atmosphere which causes greenhouse emission and global warming through. It has therefore become imminent to have alternative materials that will be readily available, ecofriendly and not to compromised strength and with required durability to replace conventional cement. In this research work, calcined kaolin obtained from Kankara Local Government of Katsina State was used to replace cement at 5%, 10%, 15%, 20% and 25% respectively. Oxide composition test, slump test, compressive strength test and Split Tensile strength test were carried out for both control and concrete produced with metakaolin as partial replacement of cement. It was noticed that the metakaolin was of class N Pozzolan and having a good compressive and tensile strengths that surpassed that of the control concrete mix. From test results it was concluded that cement can be replaced by metakaolin at 20% replacement to achieve a sustainable concrete with good strength and durability. One of the setbacks that was noticed is that the percentage increase of metakaolin in the concrete decrease the workability of the concrete and has to be compensated by adding super plasticizer. Also, even though kaolin is available in some parts of the country, 
References
(RMRDC), R. M. (2008). Technical Brief on Minerals in Nigeria (Kaolin). Abuja.
Akinyele, J. O., Odunfa, S. O., Famoye, A. A., & Kuye, S. I. (2017, November). Assessment of Isan-Ekiti Metakaolin as a Pozzalan in Concrete. Journal of Sustainable Technology, 8(2), 26-35.
Dinakar, P., Pradosh, K., Sahoo, & Sriram, G. (2013, September). Effect of Metakaolin Content on the Properties of High Strength Concrete. International Journal of Concrete Structures and Materials, 7(3), 215-223.
Hardjito, D., Chung, C. C., & Ho Lee, I. C. (2008). Modern Applied Science, 2(4), 3-11.
Jamal, M. K., Oussama, B., & Adel, A. E. (2018). Metakaolin. Beirut, Lebanon: ResearchGate.
Joseph, D. (1984). Patent No. 4472199. Washington, DC U.S.
Narmatha, N., & Felixkala, T. (2016, July). Meta Kaolin - The Best Material for Replacement of Cement in Concrete. Journal of Mechanical and Civil Engineering, 13(4), 66-71.
Vemundla, R., & Konoki, S. (2020). Mechanical Properties and Mix Design of Geopolymer Concrete - A review. E3S Web of Conference. 184, pp. 1-5. India: ICMED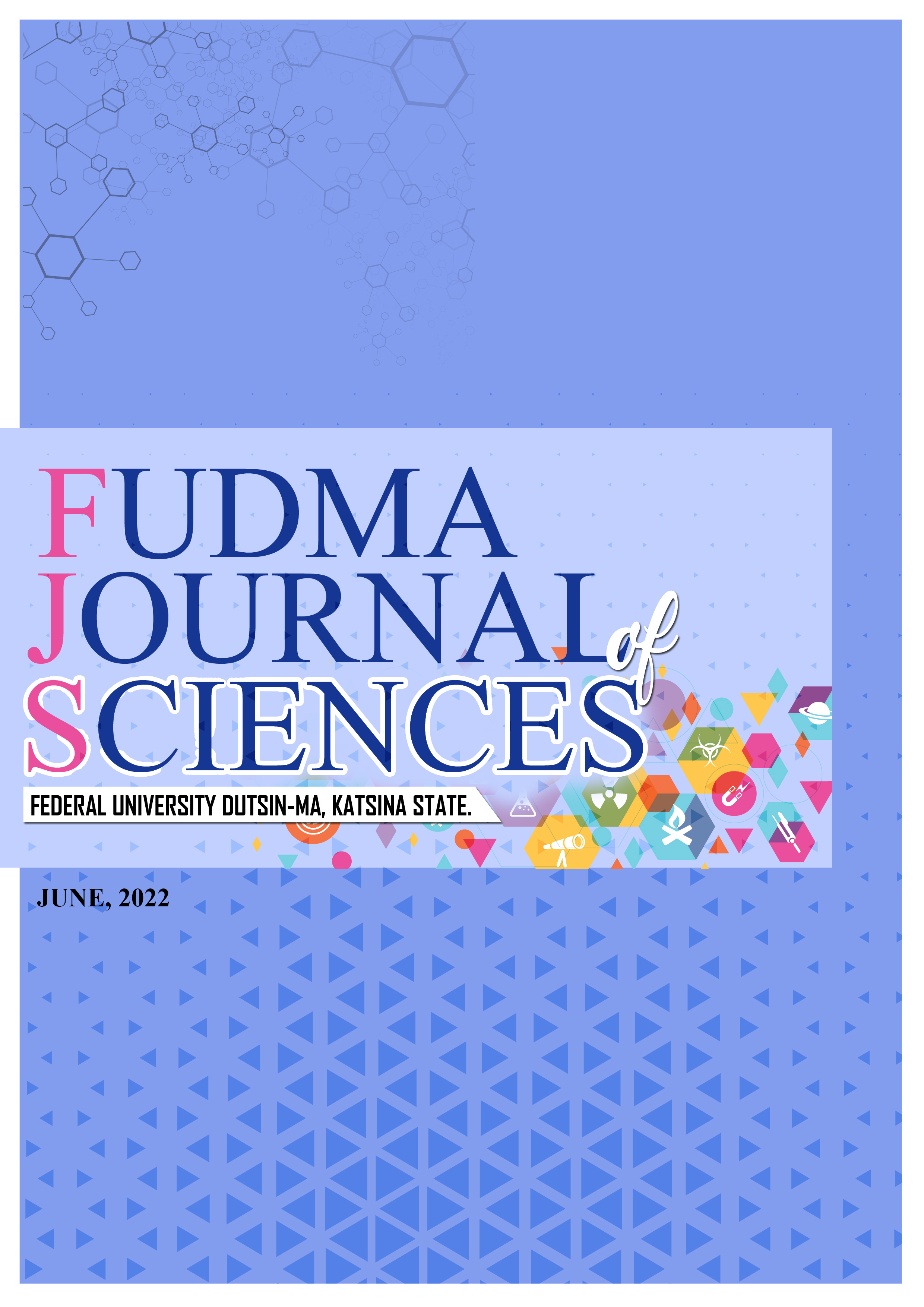 How to Cite
KuduM., & YusufN. (2022). CHARACTERISTICS BEHAVIOR OF PARTIALLY REPLACED CEMENT WITH KANKARA METAKAOLIN IN CONCRETE PRODUCTION. FUDMA JOURNAL OF SCIENCES, 6(3), 76 - 81. https://doi.org/10.33003/fjs-2022-0603-972
Section
Research Articles
Copyright (c) 2022 FUDMA JOURNAL OF SCIENCES
This work is licensed under a Creative Commons Attribution 4.0 International License.
FUDMA Journal of Sciences