IMPACT OF PETROCHEMICAL ACTIVITIES ON THE PHYSICOCHEMICAL AND MICROBIOLOGICAL QUALITY OF SURFACE WATER, GROUND WATER AND SOIL IN OTU-JEREMI, IWEREHKAN AND OKPARE COMMUNITIES, UGHELLI SOUTH LOCAL GOVERNMENT AREA, DELTA STATE, NIGERIA
Iyekhoetin Matthew Omoruyi

BENSON IDAHOSA UNIVERSITY

James Ikechukwu Amadi
Keywords:
Environment; Pollution; Heavy metals; Microbiology; Public Health
Abstract
The effects of petrochemical activities on the physicochemical and microbiological properties of surface water, ground water and soil from three different communities (Otu-Jeremi, Iwerehkan and Okpare communities) in Ughelli South Local Government Area, Delta State, Nigeria was investigated. A total of 96 samples, were obtained from surface water, ground water as well as soil, and across two seasons (dry and raining). The physicochemical parameters were determined according to the American Public Health Association (APHA) methods, while total heterotrophic bacterial counts and fungal counts were determined by pour plate technique. The results obtained showed that most pH obtained from underground water, surface water and soil were below the acceptable limit, including that of the control. The turbidity level of the surface water samples from all communities (Otu-Jeremi, 4.01 ± 0.3 NTU; Iwerehkan, 3.28 ± 0.89 NTU; Okpare, 3.25 ± 0.89 NTU), including that of the control (3.65 NTU) during the dry season were higher than that of Federal Environmental Protection Agency (FEPA) benchmark (1.0 NTU). Other parameters had varying concentrations, when compared with the FEPA minimum benchmark. Six bacterial genera (Aeromonas sp, Corynebacterium sp, Staphylococcus sp, Micrococcus sp, Bacillus sp and Pseudomonas sp.) and seven fungi genera (Aspergillus, Cladosporium, Candida, Mucor, Rhizopus, Trichophyton and Geotrichium) were identified. The result of this study showed that petrochemical activities have negative impact on underground water, surface water and soil from the three communities in Ughelli South Local Government Area of Delta State
References
Agu, K.C., Edet, B.E., Ada, I.C., Sunday, A.N., Chidi, O.B., Gladys, A.C., Uche, E.C., Uchennea, O.M. and Chinedu, O.A. (2014). Isolation and characterization of microorganisms from oil polluted soil in Kwata, Awka South, Nigeria. American Journal of Current Microbiology. 3: 46-59.

Akakuru, O.C., Akudinobi, B.E.B. and Usman, A.O. (2017). Organic and heavy metal assessment of groundwater sources around Nigeria National Petroleum Cooperation oil depot Aba, South-Eastern Nigeria. Journal of Natural Sciences Research. 7(24):48-54.

Ameh, A.A. and Kawo, A.H. (2017). Enumeration, isolation and identification of bacteria and fungi from soil contaminated with petroleum products using layer chicken droppings as an amendment. Bayero Journal of Pure and Applied Sciences,

Ana, G.R., Sridhar, M.K.C and Bamgboye, E.A. (2009). Environmental risk factors and health outcomes in selected communities of the Niger delta area, Nigeria. Perspectives in Public Health. 129:183–191.

APHA (American Public Health Association), (1998). Standard Methods for the Examination of water and Waste-water 20th ed. Washington DC.

Awosika, L. F. (1995). Impacts of Global Climate Change and Sea level rise on Coastal Resources and Energy Development in Nigeria. In: Umolu J.C., (ed) Global Climate Change: Impact on Energy Development. DAMTECH Nigeria Limited, Nigeria.

Chinedu, E. and Chukwuemeka, C.K. (2018). Oil spillage and heavy metals toxicity risk in the Niger Delta, Nigeria. Journal of Health Pollution. 8(19): 180905

Chowdhury, S., Mazumder, M.A.J., Al-Attas, O. and Husain, T. (2016). Heavy metals in drinking water: occurrences, implications, and future needs in developing countries. Science of the Total Environment. 569-570: 476-488.

Emmanuel, E., Usman, A.A., Daraobong, U. and Queen, O. (2017). Bioremediation potentials of some indigenous microorganisms isolated from auto mechanic workshops on irrigation water used in Lokoja Kogi state of Nigeria. Journal of Bacteriology and Mycology. 4(4): 121-125.

Emoyan, O.O., Akpoborie, I.A. and Akporhonor, E.E. (2008). The oil and gas industry and the Niger Delta: Implications for the environment. Journal of Applied Science and Environmental Management. 12(3): 29-37.

Emuedo, O.A., Anoliefo, G.O. and Emuedo, C.O. (2014) Oil pollution and water quality in the Niger Delta: Implications for the sustainability of the Mangrove ecosystem. Global Journal of Human-Social Science, B. 14(6): 2-11

Frank, O. and Boisa, N. (2018). The effect of crude oil spill on the surface water of the lower Niger Delta (Sombriero River). Journal of Industrial and Environmental Chemistry. 2(2): 19-24.

Hedley, T., (2020) 'Nigeria Takes Aim against Gas Flaring in 2020'. Africa Oil and Power, 4 September 2020. Available at: https://www.africaoilandpower.com/2020/09/04/nigeria-takes-aim-against-gasflaring-in-2020 (accessed 17 November 2020).

Hounsou, M. B., Agbossou, E. K., Ahamide, B. and Akponikpe, I. (2010). Bacteriological water quality in the Ouémé basin: case of total and faecal coliforms in the water reservoirs of Okpara, Djougou and Savalou in Benin. International Journal of Biological and Chemical Sciences 4 (2), 377–390.

Ite, A.E., and Ibok, U.J. (2013). "Gas Flaring and Venting Associated with Petroleum Exploration and Production in the Nigeria's Niger Delta," American Journal of Environmental Protection, 1(4). 70 – 77.

Jasuja, N.D., Saxena, R., Chandra, S. and Joshi, S.C. (2013). Isolation and identification of microorganism from polyhouse agriculture soil of Rajasthan. African Journal of Microbiology Research. 7(41): 4886-4891.

Kumari, B., Singh, S.N., Farah, D., Sharma, M., Pandey, V. and Singh, D.P. (2013) Elucidation of pyrene degradation pathway in bacteria. Advanced Bioresources. 4(2):151–160.

Levallois, P., Barn, P., Valcke, M., Gauvin, D. and Kosatsky, T. (2018). Public health consequences of lead in drinking water. Current Environmental Health Reports. 5(2): 255-262.

Muhammad, S.A., Abubakar, S.I., Babashani, H., Asagbra, A.E. and Alhassan, A.J. (2020). Assessment of heavy metals concentration in crude oil contaminated water samples of three communities of Ikpokpo, Atanba, and Okpele-Ama of Gbaramatu kingdom, along the Escravos River in Warri South West local government area of Delta State, Nigeria. International Journal of Environment and Pollution Research. 8(3): 41-59.

Mulamattathil, S.G., Bezuidenhout, C. Mbewe, M. and Ateba, C.N. (2014). Isolation of environmental bacteria from surface and drinking water in Mafikeng, South Africa, and characterization using their antibiotic resistant profiles. Journal of Pathogens. 371208.

Ndubuisi, A.L. and Asia, I.O. (2007). Environmental pollution in oil producing areas of the Niger Delta Basin, Nigeria: Empirical Assessment of Trends and People's perception. Environmental Research Journal 1 (1-4): 18-26.

Njoku, K.L., Akinola, M.O. and Oboh, B.O. (2008). Growth and Performance of Glycine max L. (Merrill) Grown in crude oil contaminated soil augmented with cow dung. Nature Science. 6(1): 46-56.

Olagoke, O.V., Awojobi, K.A., Adekeye, A.A., Olasupo, A.D., Aborisade, A.B. and Ogunrinde, T.O. (2018). Isolation and characterization of stream water bacteria from ESA-OKE Metropolis. Journal of Medical Microbiology and Diagnosis. 7: 1-3.

Omoruyi, I.M., Wogu, M.D. and Eraga, M.E. (2011). Bacteriological quality of beef-contact surfaces, air microflora and wastewaters from major abattoirs in Benin City, Southern Nigeria. International Journal of Biosciences. 1(3): 57-62.

Ordinioha, B. and Brisibe, S. (2013). The human health implications of crude oil spills in the Niger Delta, Nigeria: An interpretation of published studies. Nigerian Medical Journal. 54(1): 10-16.

Penna, V.T.C., Martins, S.A.M. and Mazzola, P.G. (2002). Identification of bacteria in drinking and purified water during the monitoring of a typical water purification system. BMC Public Health. 2(13): 1-11.

Rodier, J., Legube, B. and Merlet, N. (2009). Water Analysis, 9th edn. Dunod, Paris, France.
Rodriguez-Trigo, G., Zock, J.P., and Montes, I. (2007). Health effects of exposure to oil spills. Achieve Bronconeumology. 43: 628–635.

Saadoun, I. (2002). Isolation and characterization of bacteria from crude petroleum oil contaminated soil and their potential to degrade diesel fuel. Journal of Basic Microbiology. 42: 420-428.

San-Sebastian, M., Armstrong, B., Cordoba-Dona, J.A. and Stephens, C. (2001). Exposures and cancer incidence near oil fields in the Amazon Basin of Ecuador. Occupational and Environmental Medicine. 58: 517-522.

Sirisha, T., Basha, P.A. and Kavitha, B. (2017). Isolation and characterization of pathogenic bacteria from Kundu River water of Nandyal, Kurnool, Andra Prades, India. Journal of Applied Sciences. 17: 475-481.Skoog, D. A., West, D. M., Holler, F. J. and Crouch, S. R. (2015) Analytical Chemistry. 3rd edn. De Boeck, Paris, France.

Spini, G., Spina, F., Poli, A., Blieux, A.L., Regnier, T., Gramellini, C., Varese, G.C. and Puglisi, E. (2018) Molecular and microbiological insights on the enrichment procedures for the isolation of petroleum degrading bacteria and fungi. Frontiers in Microbiology. 9: 2543

US Environmental Protection Agency USEPA (2011). Crude and Petroleum Products.

Uzoma, A.C., Mgbemena, O.O. (2015), Evaluation of some oil companies in the Niger Delta region of Nigeria: An environmental impact approach. International Journal of Environment and Pollution Research, 3(2), 13-31.Agency for Toxic Substances and Disease Registry [ATSDR]. (1999). Pp. 63. https://www.atsdr.cdc.gov/csem/cadmium/docs/cadmium.pdf. Accessed in January 2020.

WHO (2011). Guidelines for drinking water quality. Geneva: World Health Organization, 130 – 185.

Yusuf, B.A., Mohammed, D.S.S., and Ijah, J.U.J. (2020). Microbiological and physicochemical assessment of tannery polluted soil inoculated with pure and mixed fungi slurry. FUDMA Journal of Sciences. 4(1): 732-743.

Zhang, D.C., Schinner, F. and Margesin, R. (2010). Pedobacter bauzanensis sp. nov., isolated from soil. International Journal of Systemic Evolutionary Microbiology. 60:2592–2595.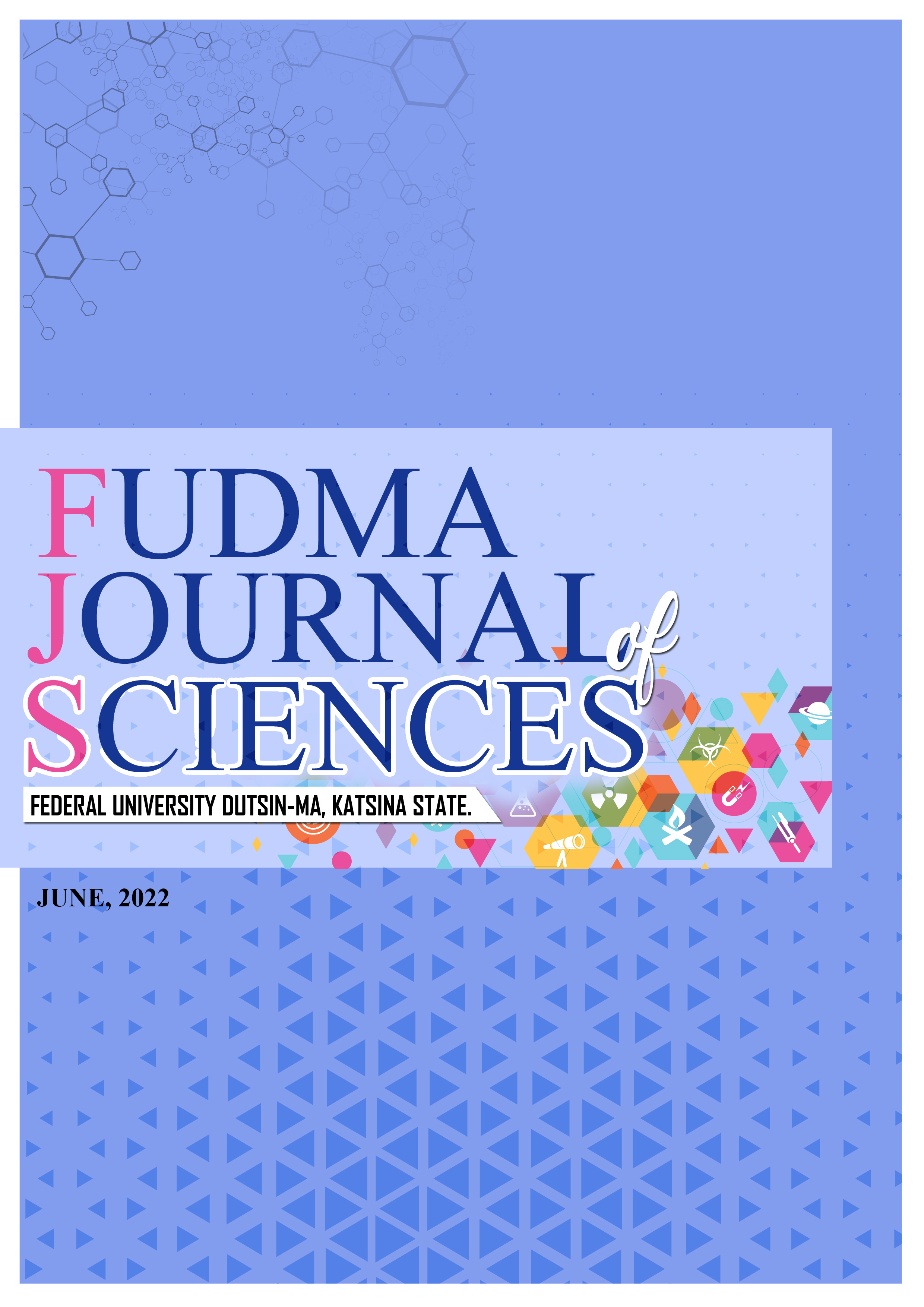 How to Cite
OmoruyiI. M., & AmadiJ. I. (2022). IMPACT OF PETROCHEMICAL ACTIVITIES ON THE PHYSICOCHEMICAL AND MICROBIOLOGICAL QUALITY OF SURFACE WATER, GROUND WATER AND SOIL IN OTU-JEREMI, IWEREHKAN AND OKPARE COMMUNITIES, UGHELLI SOUTH LOCAL GOVERNMENT AREA, DELTA STATE, NIGERIA. FUDMA JOURNAL OF SCIENCES, 6(3), 1 - 14. https://doi.org/10.33003/fjs-2022-0603-951
Section
Research Articles
Copyright (c) 2022 FUDMA JOURNAL OF SCIENCES
This work is licensed under a Creative Commons Attribution 4.0 International License.
FUDMA Journal of Sciences