INFLUENCE OF SEED HYDRO PRIMING DURATION ON GROWTH AND YIELD OF SOYBEAN (Glycine max. L. Merr) IN THE SUDAN SAVANNAH
M. S. Aminu

A. A. Ahmed

M. A. Bukar
Keywords:
Priming, Soybean varieties, Sudan Savannah, Superior, Yield
Abstract
Rapid germination and emergence is an important factor of successful establishment in soybean. Response of soybean varieties to hydro priming duration were investigated under field condition at the Research Farm of the Faculty of Agriculture, Kano University of Science and Technology, Wudil located at Bagauda, and at Gaya fields respectively in 2018 rainy season. The treatment consisted of four improved soybean varieties (TGX-1835, TGX-1904, TGX-1951 and TGX-1955) and four priming duration (0hour (dry seed or control), 4hours, 6hours and 8hours) respectively, they were combined and laid out in a randomized complete block design (RCBD) and replicated three times. The result showed that priming duration has significant effect on stand count and plant height at Gaya alone, there were no significant effects on the number of pods per plant, number of seeds per pod, number seeds per plant, grain yield (t/ha). The highest value was obtained at 8 hour priming duration at both locations. The varieties tested also differed significantly, where TGX-1904 and TGX-1951 recorded superior growth and yield parameters compared to TGX-1835 and TGX-1955 at Gaya. At Bagauda TGX-1904 and TGX-1955 proved superior in terms of stand counts, plant heights at eight weeks after sowing compared to others. From the foregoing, therefore, it is recommended that, priming duration of 8 hours in both locations and varieties TGX-1904 and TGX-1951 could be cultivated by soybean farmers in Gaya while varieties TGX-1904 and TGX-1955 is recommended for farmers in Bagauda for good crop yield.
References
Arif, M., K.M. Kakar, M.T. Jan and M. Younas. (2003). Seed soaking enhances emergence of mungbean.Sarhad Journal of Agriculture, 19: 439-441.
Arif, M., S. Ali, A. Shah, N. Javed and A. Rashid. (2005). Seed priming maize for improving emergence and seedling growth. Sarhad Journal of Agriculture, 21: 17-20.
Carciochi W. A, Schwalber,t R, Andrade F. H, Corassa G. M, Carter P, Gaspar A. P, (2019). Soybean seed yield response to plant density by yield environment in North America. Agronomy Journal;111(4):1923–32.
Chiu K. Y, Chen C. L, Sung J. M. (2005). Why 20 degrees C-primed sh-2 sweet corn seeds were of higher quality than 20 degrees C-primed seeds: some physiological clues. Seed Science Technology.33:199–213.
Duncan, D. B (1955) Multiple range and Multiple F – Test. Biometrics Pp. 11-42
FAO (Food and Agriculture Organization). (2008). Oilseeds. FAO, Rome. Available at http://fao.org. Retrieved 10 May, 2016.
FAO (Food and Agriculture Organization). (2013). Oilseeds. FAO, Rome. Available at http://fao.org. Retrieved 10 May, 2016.
Ghana, S.G. and F.S. William. (2003). Seed priming winter wheat for germination, emergence and yield. Crop Science, 43: 2135-2141
Girolamo G, and Barbanti L. (2012). Treatment conditions and biochemical processes influencing seed priming effectiveness. Italy Journal of Agronomy. 7(2):178–88.
Lewandowska S. (2016). Perspectives of soybean cultivation in Poland. Agric XXI Century Probl Challenges. p. 162–9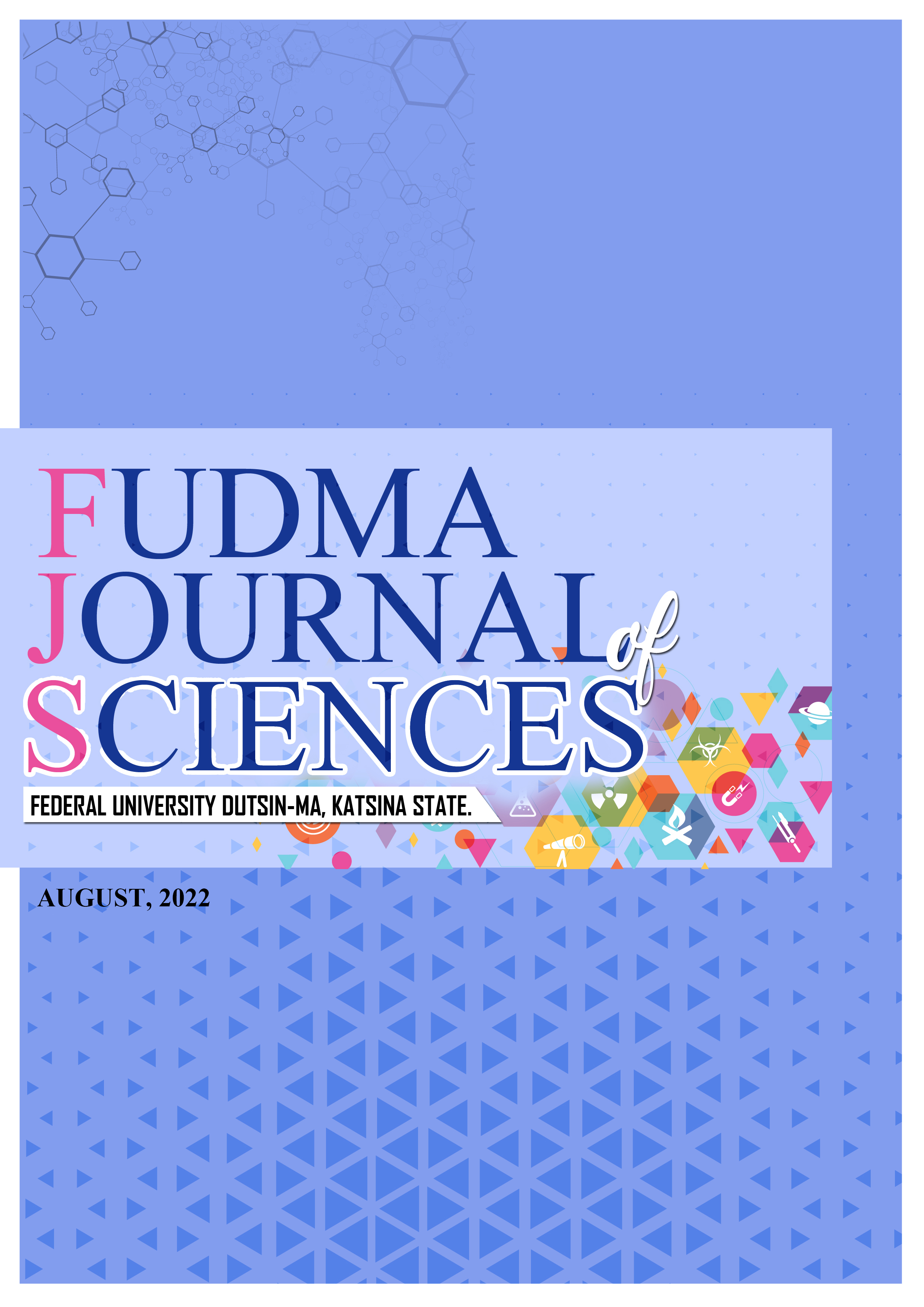 How to Cite
AminuM. S., AhmedA. A., & BukarM. A. (2022). INFLUENCE OF SEED HYDRO PRIMING DURATION ON GROWTH AND YIELD OF SOYBEAN (Glycine max. L. Merr) IN THE SUDAN SAVANNAH. FUDMA JOURNAL OF SCIENCES, 6(4), 232 - 237. https://doi.org/10.33003/fjs-2022-0604-1069
Section
Research Articles
Copyright (c) 2022 FUDMA JOURNAL OF SCIENCES
This work is licensed under a Creative Commons Attribution 4.0 International License.
FUDMA Journal of Sciences