GEOPHYSICAL AND HYDROCHEMICAL INVESTIGATION OF THE IMPACT OF CLIMATE CHANGE ON GROUNDWATER QUALITY: A CASE STUDY OF GASHUA, NORTHEAST NIGERIA
Livinus Emeka Agada

Habu Tela Abba
Keywords:
Gashua, climate change, temperature, rainfall, flood, contamination, groundwater
References
Adelusi, A.O., Akinlalu, A. A., & Adebayo, S.S. (2013). Geophysical and Hydrochemistry methods for mapping groundwater contaminations around Aule area, Akure, southwestern Nigeria. Int. J. Water Res. Environ. Eng. 5(7), 442-451. DOI 10.5897/IJWREE2013.0370.

Agada, L.E., Adetola, S.O., & Osita, C, M., (2020). Investigation of the effects of leachate from solid waste dumpsite on groundwater using electrical resistivity method. Global Scientific Journal, 8, 1, pp. 2371-2401.

Agada, L.E., & Yakubu, M.S. (2022). Heat wave and its impact in northeastern Nigeria: A case study of Yobe State, Nigeria. FUDMA Journal of Sciences, 6(1), 232-239.

Ayolabi, E.A., Folorunso, A.F., Kayode, O.T. (2013). Integrated geophysical and geotechnical methods for environmental assessment of municipal dumpsite system. Int. J. Geosci. 4, 850-862.

De La Paix, M.J., Lanhai, L., Xi, C., Varenyam, A., Anming, B. (2011). Study of impacts of floods on the water quality in an arid zone: The case of the Tarim River in Northwest China. Water Science and Technology, 64(10), pp. 1973-1979. https://doi.org/10.2166/wst.2011.778.

Delpla, I., Jung, A., Baures, E., Clement, M., & Thomas, O. (2009). Impacts of climate change on surface water quality in relation to drinking water production. Environ. Int. 35, 1225-1233.

Ezekwe, C.I., & Edoghotu, M.I. (2015). Water quality and environmental health indicators in the Andoni river estuary, eastern Niger Delta of Nigeria. Environ. Earth Sci. 74, 6123-6136.

Huebsch, M., Fenton, O., Horan, B., Hennessy, D., Richards, K.G., Jordan, P., Goldscheider, N., Butscher, C. Blum, P., (2014). Mobilization or dilution? Nitrate response of Karst springs to high rainfall events. Hydrology and Earth System sciences, 18 (11), pp. 4423-4435 https://doi.org/10.5194/hess-18-4423-2014.

Jasechko, S., Perrone, D., Befus, K.M., Bayani, C.M., Ferguson, G., Gleeson, T., Luijendijk, E., McDonnell, J., Taylor, R.G., Wada, Y., Kirchner, J.W. (2017). Global aquifers dominated by fossil groundwaters but wells vulnerable to modern contamination. Nature Geoscience, 10(6) pp. 425-429.

Koudahe, K., Kayode, A.J., Samson, A.O., Adebola, .A. A. & Djaman, K. (2017). Trend Analysis in Standardized Index in the Context of Climate Change in Southern Togo. Atmosphere and Climate Science, 7, 401-423. https://doi.org/10.4236/acs.2017.74030.

Marck, F. (2015). Calculation of the standard temperature index. https://www.rdrr.io/cran/STI/

Mosuro, G.O., Omosanya, K.O., Bayewu, O.O., Oloruntola, M.O., Laniyan, T.A., Atobi, O. M., Okubena, E., & Popoola F.A. (2016). Assessment of groundwater vulnerability to leachate infiltration using electrical resistivity method. Appl Water Sci. 7, 2195-2207. DOI10.1007/s1320101603934.

Nwigwe, C., & Emberga, T. (2014). An Assessment of Causes and Effects of Flood in Nigeria. Standard Scientific Research and Essays. 2(7), pp. 307-315.

Obaje, N.G., Abaa, S.I., Najime, T., Suh, C.E. (1999). Economic geology of Nigeria coal resources – a brief review. Afr Geosci Rev 6: 71- 82.

Ojolowo, S., & Wahab, B. (2017). Municipal solid waste and flooding in Lagos metropolis, Nigeria. Deconstructing the evil nexus. J. Geogr. Reg. Plan. Full. 10, 174-185.

Olanrewaju, C. C., Chitakira, O.A., & Louw, E. (2019). "Impacts of Flood Disaster in Nigeria: A Critical Evaluation of Health Implications and Management." Journal of Disaster Risk Studies. 11(1). pp. 1-9.

Small, E.E. (2005). Climate controls on diffuse groundwater recharge in semi-arid environments of the southwestern United States. Water Res. 41(4): W04012.

Sani, D. A., Sampson, K. A., Kwaku, A. A., Adjei, M. D., Vivien, C.A. (2018). Preliminary investigation of flooding problems and the occurrence of Kidney disease around Hadeija-Nguru wetlands, Nigeria and the need for an Eco-hydrology solution. 18(2), pp. 212-224.

Taylor, R.G., Koussis, A.D., Tindimugaya, C. (2009). Groundwater and Climate in Africa, a review. Hydrol Sci. J. 54(4), pp. 655-664.

United States Environmental Protection Agency (2011). Guidelines for drinking water Standard. Washington DC. www.epa.gov.

Waziri, M., Ogugbuaja, V.O. & Dimari, G.A. (2009). Heavy metal concentrations in surface and groundwater samples from Gashua and Nguru Areas of Yobe State, Nigeria. Integrated Journal of Science and Engineering 8 (1) 58-63.

WHO. (2017). Guidelines for drinking water quality, 4th edition, incorporating the 1st addendum.

World Health Organization. http: www.who.int/water_sanitation_health/publications/drinking-water-qualityguidelines-4-including-1st addendum/en. Accessed 15 July, 2021.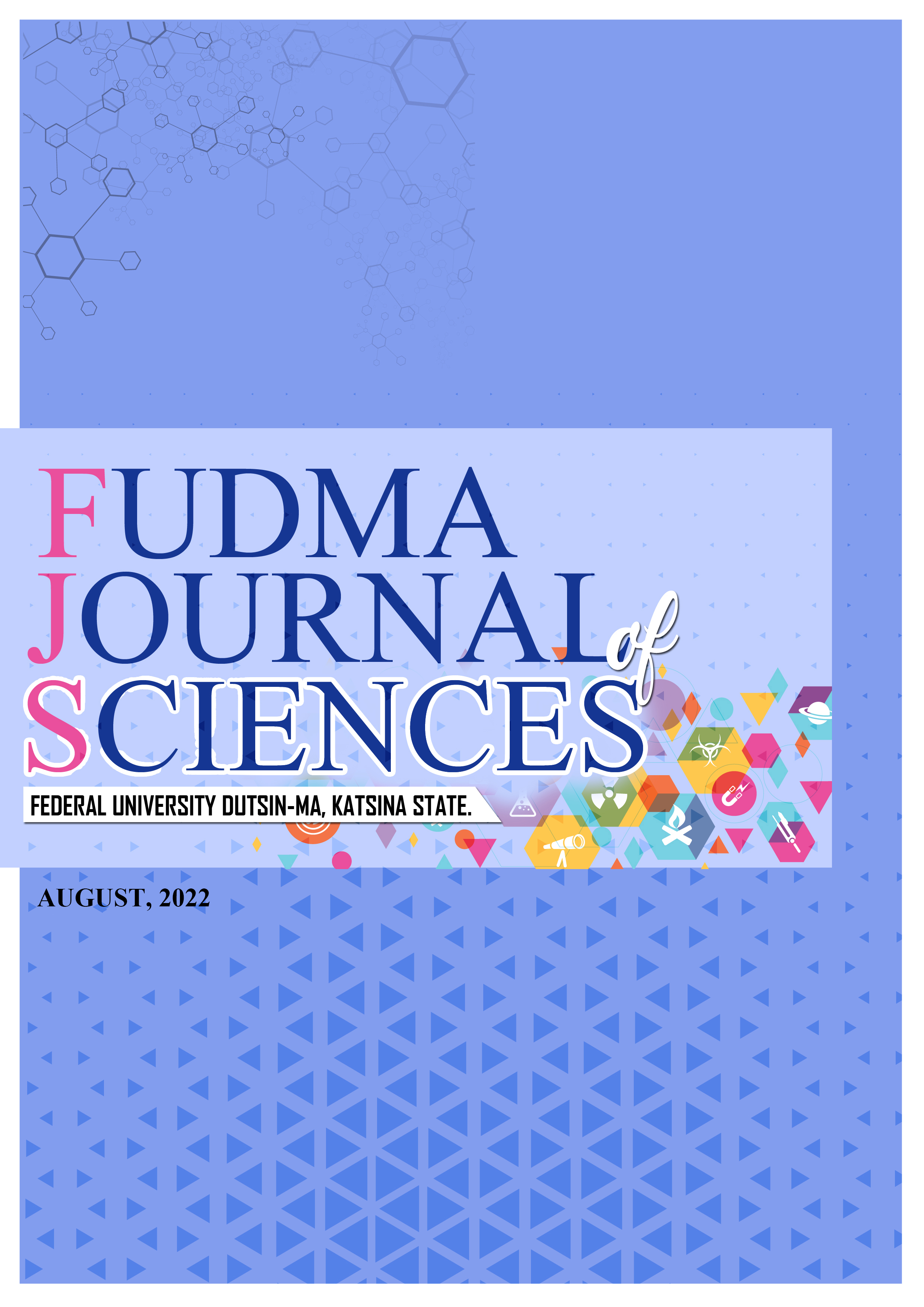 How to Cite
AgadaL. E., & AbbaH. T. (2022). GEOPHYSICAL AND HYDROCHEMICAL INVESTIGATION OF THE IMPACT OF CLIMATE CHANGE ON GROUNDWATER QUALITY: A CASE STUDY OF GASHUA, NORTHEAST NIGERIA. FUDMA JOURNAL OF SCIENCES, 6(4), 181 - 190. https://doi.org/10.33003/fjs-2022-0604-1062
Section
Research Articles
Copyright (c) 2022 FUDMA JOURNAL OF SCIENCES
This work is licensed under a Creative Commons Attribution 4.0 International License.
FUDMA Journal of Sciences