ANTIBACTERIAL ACTIVITY OF BRYOPHYLLUM PINNATUM AGAINST CLINICAL ISOLATES OF ESCHERICHIA COLI AND KLEBSIELLA PNEUMONIA FROM URINARY TRACT INFECTION PATIENTS
M. B. Moroof

S. S. Sani

O. L. Nwoko
Keywords:
Bryophyllum pinnatum, Escherichia coli, Klebsiella pneumoniae, Antibacterial activity
Abstract
The emergence and spread of resistant strains of bacteria to routinely used antibiotics has made it imperative to continuously search for alternatives that can be used to cure infections, so as not to return to pre-antibiotic era. Plants are known to contain bioactive compounds that can be explored and used in the treatment of infection. The study investigated the antibacterial activity of ethanolic extracts of dried leaf extracts of Bryophyllum pinnatum against clinical isolates of Escherichia coli and Klebsiella pneumoniae from urinary tract infection patients attending Shehu Muhammad Kangiwa Medical Centre. The photochemical screening of the crude extracts of Bryophyllum pinnatum (leaf of life) carried out using standard procedures described by Trens and Jens 2002, revealed the presence of Saponins, Flavonoid, Terpenoids, Alkaloids, Phenol and Tannins . The antibacterial activity of the extracts was carried out using agar cup diffusion method. Four concentrations (200,100, 50 and 25mg/ml) of the extract were tested against Escherichia coli and Klebsiella pneumoniae. The zones of inhibition measured at 200,100, 50 and 25mg/ml were: 00,00,00 and 00 mm respectively. The extracts  therefore showed no antibacterial activity against the isolates at all the four concentrations tested. The results of this study proofs that the ethanolic extract of  B. pinnatum leaves has no effect on E. coli and K. pneumoniae isolated from patients with Urinary Tract Infection, and hence cannot be used to treat infections caused by these bacteria.
References
Azuonwu Obioma, Azuonwu Testimonies Chikanka and Ibulubo Dumo(2017).Antimicrobial Activity of Leave Extracts of Bryophyllum pinnatum and Aspilia africana on Pathogenic Wound Isolates Recovered from Patients Admitted in University of Port Harcourt Teaching Hospital, Nigeria.I (2017). Annals of Clinical and Laboratory Research Vol. 5:No.3:185.

Baker, J., Theurkauf, W. E. and Schubiger, G. (1993). Dynamic changes in microtubule configuration correlate with nuclear migration in the preblastoderm Drosophila embryo. Journal of Cell Biology, 122(1), 113–121.

Balygina, Rossi Bergimann,B., Costa, S.S, Borges M.B.S, Sliva.(2002). Neuropsychological effects of aqueous leaf extra of Bryophyllum pinnatum in Mice. African Journal of Biomedical Research, 9:101-107.

Cappuccino .J.G. and Sherman, N (2010). Microbiology laboratory Manual. 7th Edition, Pearson Education in South Asia, Singapore, part 5, 143-203.

Dhama, K., Tiwari, R., Chakraborty, S., Saminathan,M.,Kumar,A., Karthik, K., 7 Rahal, A. (2014). Evidence based antibacterial potentials of medicinal plants and herbs countering Bacterial pathogens especially in the era of emerging drug resistance :An integrated update. International Journal of pharmacology, 10 (1), 143.

Harborne JB (1999). Phytochemical methods a guide to morden techniques of plant Analysis plant pathology, 48:146.

Ibikunle, I.A., Bolanle, K.S., Jumai, A.A., Ifeoluwa, D.G., Anibijuwon, I.F., Saliu, B.K., Abioye,J.A., Gbala, I.D (2017). Antimicrobial activities of Bryophyllum pinnatum on some selected clinical isolates. Fountain Journal of Natural and Applied Sciences, 6(1): 1-8.

Liux, Dong M, Chen x, Jiang M, L.U., X, Yan G (2007). Antioxidant activity and phenolics of an endophytic Xylaria sp. From Ginkgobiloba. Food chem, 105(2): 548-554.
Lorian, Victor (2005). Antibiotics in Laboratory Medicine. Lippincott Williams & Wilkins. ISBN 9780781749831.

M .I. Izundu, C.O., Anayamene, E.A., Kyrian-Ogbonna, O.R., Umeh and I.U., Nwiyi (2020). Inhibitory effects of Azadirachta indica (neem) and Bryophyllum pinnatum (oda opue) Leave extracts on Staphylococcus aureus isolated from infected wound samples. Journal of Advances in Medical and Pharmaceutical Sciences, 23 (6): 18-26.

Moussaoui, F., & Alaoui, T.(2016). Evaluation of antibacterial activity and synergistic Effect between antibiotic and the essential oils of soic medicinal plants. Asian pacific Journal of Tropical Biomedicine, 6 (1), 32-37.

Nagaratna A, Prakash L.H (2015). A comprehensive review on Parnabeeja (Bryophyllum Pinnatum ). Journal of Medicinal Plant Studies, 3(5): 166-171.

Odunayo R Akinsulire, Ibukun E Aibinu, and Tolu Odugbemi(2005).InVitro Antimicrobial Activity of Crude Extracts from Plants Bryophyllum Pinnatum and Kalanchoe Crenata. Journal of Traditional and Complementary Alternative Medicine. 2007; 4(3): 338–344.

Ofokansi,K.C and Esinmone c.o (2005).A comprehensive review of plants used as healing. International Journal of Plant Product Research 9:23-27.

Smelov, Kurt Baber. Truts E,Bjerklund Johansen (2016).Improved classification of Urinary tract infection. Future consideration European Urology supplement 15(4):71-80

Umimbabazi, F, Uuimana. J, Rutanga; J.P, (2015). Assessment of antibacterial activity of Neem plant (Azadirachta indica) on Staphylococcus aureus and Escherichia coli. American Journal of Medicinal plants, 3(4):85-91.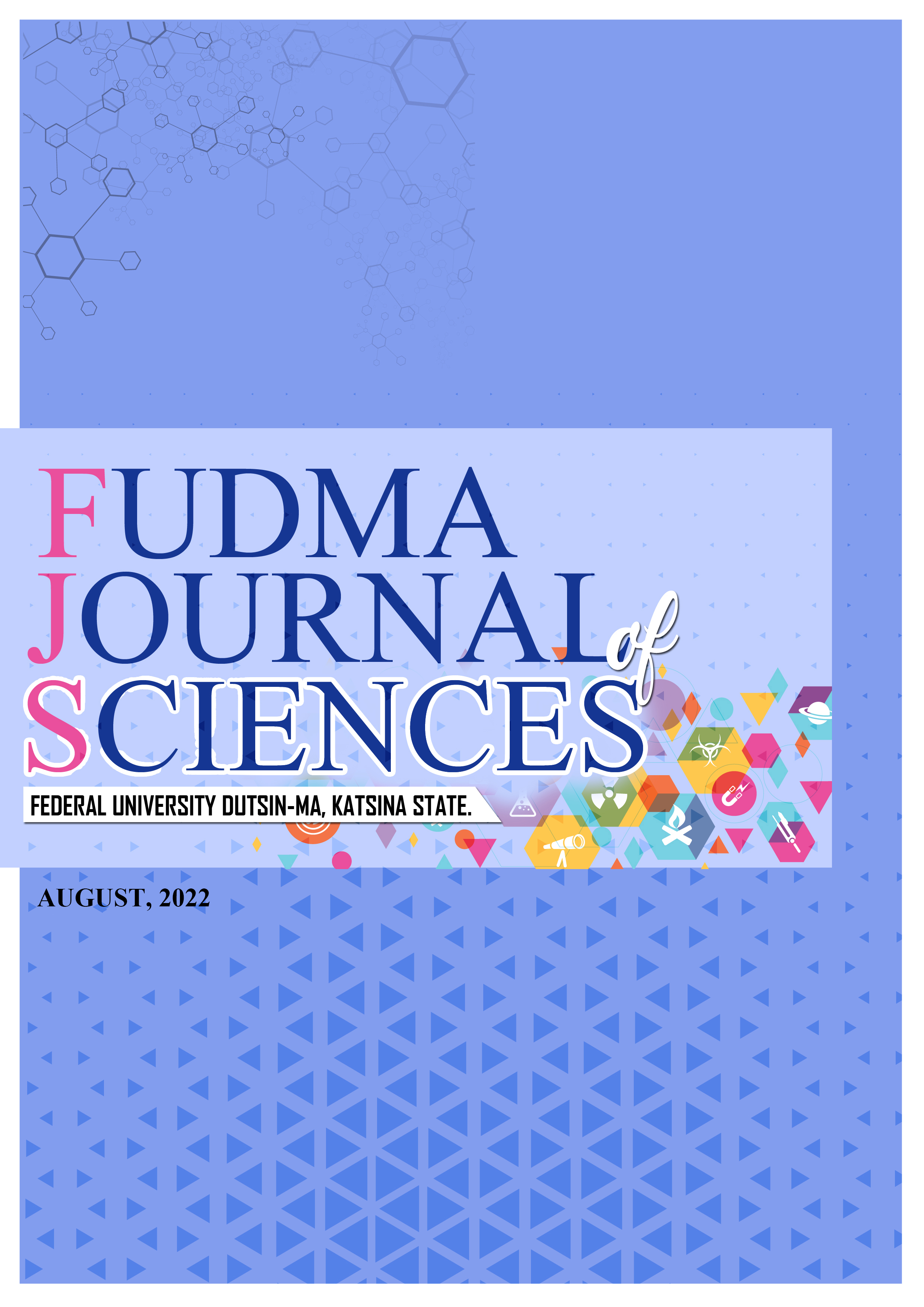 How to Cite
MoroofM. B., SaniS. S., & NwokoO. L. (2022). ANTIBACTERIAL ACTIVITY OF BRYOPHYLLUM PINNATUM AGAINST CLINICAL ISOLATES OF ESCHERICHIA COLI AND KLEBSIELLA PNEUMONIA FROM URINARY TRACT INFECTION PATIENTS. FUDMA JOURNAL OF SCIENCES, 6(4), 156 - 159. https://doi.org/10.33003/fjs-2022-0604-1052
Section
Research Articles
Copyright (c) 2022 FUDMA JOURNAL OF SCIENCES
This work is licensed under a Creative Commons Attribution 4.0 International License.
FUDMA Journal of Sciences