THE ROLE OF TRANSPORTATION NETWORK IN THE INTEGRATION OF HAUSA AND YORUBA ETHNIC NATIONALITIES IN FUNTUA TOWN OF KATSINA STATE, NIGERIA
Abubakar Lawal Dangiwa

Earth and Environmental Sciences

B. A. Ndawayo
Keywords:
integration, Hausa, rail, Yoruba, Funtua town, Ile Ogbomoso
Abstract
The paper examined the role of transportation network in the integration of Yoruba-Hausa ethnic nationalities in Funtua Town of Katsina State. The study was inspired by agitations being made by some notable Nigerians about the possibilities of disintegration of Nigeria as corporate national entity along the lines of ethnic nationalities. This notion is often propelled by sporadic ethnic and tribal disturbances that occur in the country.  However, the cordial relationship that exists in Funtua town between the Yorubas from southwestern axis of Nigeria and the indigenous Hausas cast doubt to such divisive agitations. The data obtained for this study was principally from primary source, which included discussions, in-depth face-to-face interviews, key informant and physical observational techniques. Reasons for the mixing of the two distinct ethnic groups have been investigated and discussed. The study found out that Yorubas migrated during the pre-colonial, from majorly Ogbomosho, Saki and Lagos areas, and founded Funtua at Ile Amodu and Ile Akile clans. The process continued, where Ile Ogbomoso, Ile Amodu and Ile Akile clan were established during the pre-colonial period, when the creation of rail and road networks facilitated the migration and acculturation processes, as Funtua town was linked with the Yorubaland. While, other factors related to costume and beliefs play vital role in strengthening the mutual bond between the two distinct ethnic groups into indivisible one
References
Adebanwi, W. (2005). Contesting exclusion: the dilemmas of citizenship in Nigeria. The African Anthropologist. 12(1), 11- 45.
Alba, D. (1990). Ethnic identity: the transformation of White America. New Haven: Yale
University Press.
Ambe-Uva, T.N. (2011). Identity politics and the Jos crisis: evidence, lessons and challenges of good governance. World Features. 67(1) DOI: 10.1080/02604027.2010.503546. 58-78.
Aris, G. (2007). The power and politics of dress in Africa. Undergraduate Humanities ForumMellon Research Fellow, University of Pennsylvania.
Bashir, S.M. (2006). The phenomenon of labour migration in Funtua (c.1903-1945). (Unpublished MSc. Thesis) Usman Danfodio University, Sokoto.
Boulding, K. (1953). Towards a general theory of growth. Canadian Journal of Economic and Political Science, 19: 326-340.
Bruner, E.M. (1961) Urbanization and ethnic identity in North Sumatra. American Anthropologist, 63(3) DOI: 10.1525/aa.1961.63.3.02a00040 508-521.
Candotti, M. (2009). Cotton growing and textile production in Northern Nigeria from caliphate to protectorate c. 1804-1914: a preliminary examination. Paper for the African Economic History Workshop – London School of Economics – May 2009.
Chinitz, B. (1961). Contrasts in agglomeration: New York and Pittsburgh. The American Economic Review. 51(2), Papers and Proceedings of the Seventy-Third Annual Meeting of the American Economic Association: 279-289.
Chou, T-C., & Lu, H-P. (2022). How to observe business operations: An empirical study of family business. PLOS ONE | https://doi.org/10.1371/journal.pone.0267223.
Eboh, E.C. (2009). Social and economic research. African Institute for applied Economics.
FBC (2010). Why we are here. First Baptist Church, Funtua.
Halima (Respondent). (May 27, 2011). [Radio France International (Hausa service)]. France.
Hodder, B.W. (1961). Rural periodic day markets in parts of Yorubaland. Transactions of the Institute of British Geographers, 40:81-95.
Home, R.K. (1983). Town planning, segregation and indirect rule in colonial Nigeria. Third World Planning Review. 5(2).
Hudu, A.Y. (2008). The NYSC Scheme and National Integration. In Danfulani, S.A. and Aja, A.A. (eds.) NYSC in its fourth decade. Spectrum Books Limited, Ibadan.
Igbafe, A.A. & Offiong, O.J. (2007). Political assassinations in Nigeria: an explanatory study 1986-2005. African Journal of Political Science and International Relations 1(1), 009-019.
Ikejiofor, U.C. (2009). Planning within a context of informality: issues and trends in land delivery in Enugu, Nigeria. Global Report on Human settlements 2009.
Kamau, L.J. (1976) Conceptual patterns in Yoruba culture. In Rapoport, Amos (ed.) The mutual interaction of people and their built environment. DE GRUYTER MOUTON, Berlin.
Kraxberger, B. (2005). Strangers, indigenes and settlers: Contested geographies of citizenship in Nigeria. Space and Polity. 9(1), 9-27. DOI: 10.1080/13562570500078576.
Lowe, J.C. & Moryadas, S. (1975). The geography of movement. Houghton Mifflin company, USA.
Mahuta, I.A. (1997, July). Funtua: a Bustling city in the making. AL-A'DUNMU, A Historical And Cultural Magazine, 1(3) p.6
Mulders, A. (2010). Persecution of Christians in Jos. Report for Open Doors International.
Muhammad, A.A. (2007). Federalism and political stability in Nigeria: current peril and future hopes. Journal of Sustainable Development in Africa. 9(4).
Moughtin, J. C. (1964). The traditional settlements of the Hausa people. Town. Planning Review. 35(1) 1964 Liverpool University Press.
Mitrany, D. (1966). A working peace system. Chicago: Quadruple Books.
Okun, B.S. & Orna, K.M. (2007). The impact of intermarriage on ethnic and racial stratification. Hebrew University of Jerusalem.
Onokerhoraye, A.G. (1978). The urban system and national integration in Nigeria. Journal of Black Studies, 9(2), 169 - 180.
Online Nigeria daily news (2011). Migration and urbanization. Friday May 27 2011 http://www.onlinenigeria.com/population/?blurb=135.
Ostien, P. (2009). Jonah Jang and the Jasawa: ethno-religious conflict in Jos, Nigeria. Muslim-Christian Relations in Africa. www.sharia-in-africa.net/pages/publications.php.
Osuala, E.C. (2005). Introduction to research methodology. Africana-First Publishers Limited, Nigeria.
Paden, J.N. (1973). Religion and political culture in Kano. Berkeley, University of California, Press.
Qiang, L. (2003). An analysis of push and pull factors in the migration of rural workers in China. Social Sciences in China. Doi: CNKI: SUN:ZSHK.0.2003-01-010.
Rodtridge, J.P.; Comtois, C. & Slack, B. (2009). The geography of transport systems. Routledge. New York.
Takaya, B.J. (1987). Ethnic and religious roots of the Kaduna mafia. In Takaya, B.J and Tyoden, S.G. (Eds.), The Kaduna mafiya (pp. 16-27). Jos University press, Ltd.
Tukur, M.L. (2009). A history of Maska district and Funtua. Alfikra Publication, Nigeria. Usman,Y.B. and Abba, A. (2000) Misrepresentation of Nigeria: the facts and figures. CEDDERT Occasional Publication. Centre for Democratic Development Research and Training, Zaria.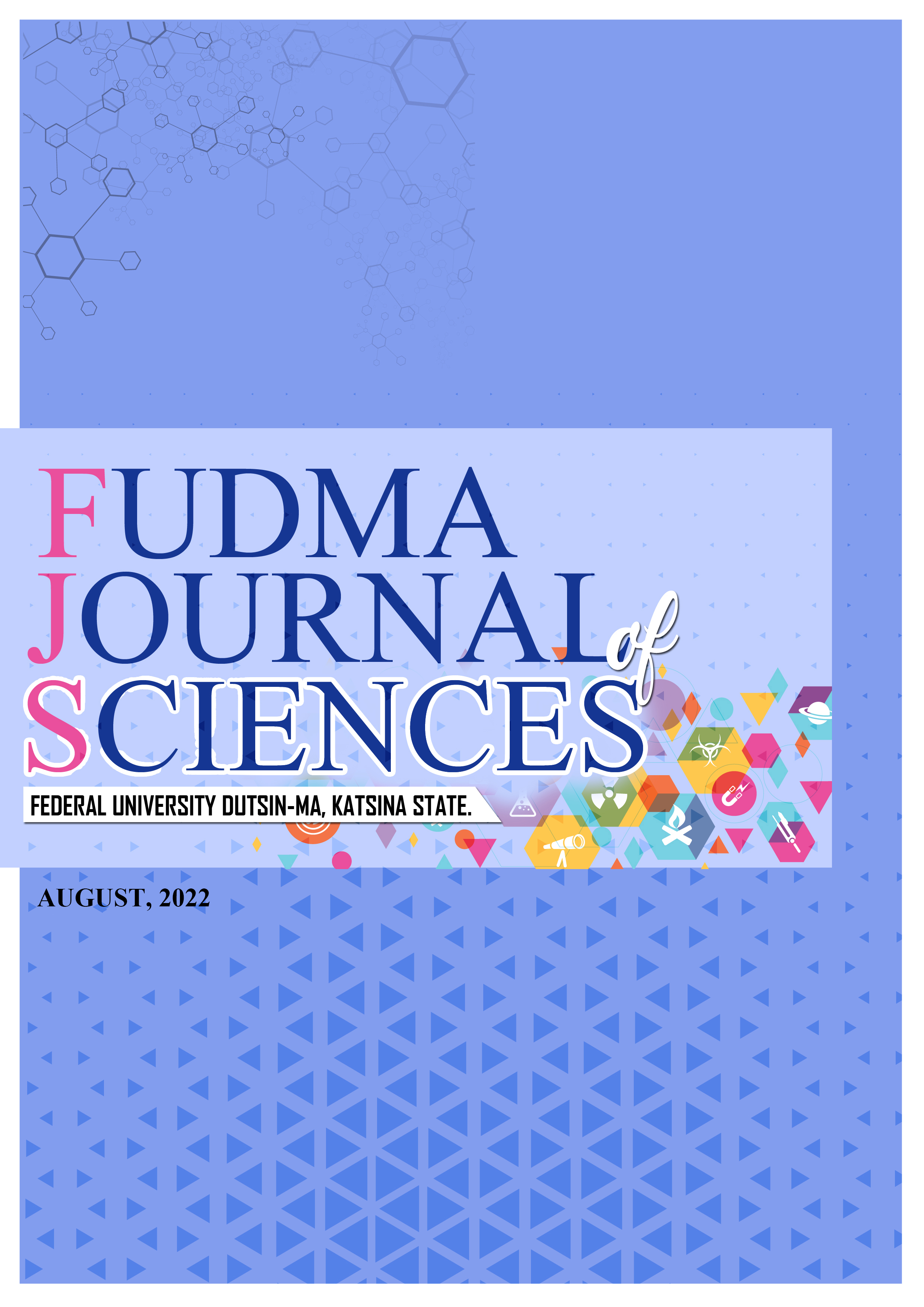 How to Cite
DangiwaA. L., & NdawayoB. A. (2022). THE ROLE OF TRANSPORTATION NETWORK IN THE INTEGRATION OF HAUSA AND YORUBA ETHNIC NATIONALITIES IN FUNTUA TOWN OF KATSINA STATE, NIGERIA. FUDMA JOURNAL OF SCIENCES, 6(4), 54 - 59. https://doi.org/10.33003/fjs-2022-0604-1043
Section
Research Articles
Copyright (c) 2022 FUDMA JOURNAL OF SCIENCES
This work is licensed under a Creative Commons Attribution 4.0 International License.
FUDMA Journal of Sciences