ADOPTION AND UTILIZATION OF CLIMATE SMART AGRICULTURAL PRACTICES BY CASSAVA FARMING HOUSEHOLDS IN IDO LOCAL GOVERNMENT AREA, OYO STATE, NIGERIA
GBADEBO OLUBUKOLA VICTORY

FORESTRY RESEARCH INSTITUTE OF NIGERIA

A. L. Oyewole

T. O. Anifowose

F. Iselobhor
Keywords:
Cassava production, climate change, adoption, climate smart agricultural practices
Abstract
The study examined the adoption and utilization of Climate Smart Agricultural Practices (CSAP) by cassava farming households in Ido Local Government Area, Oyo State, Nigeria. A two-stage sampling procedure was used to purposively select one hundred and twenty (120) registered farmers engaged in cassava crop production for questionnaire administration. Data obtained were analysed using descriptive and inferential statistics. The study revealed that cassava farming activities in the study area is at a small scale level owing to the size of farmland cultivated by majority (70.0%) of the respondents'. It was also observed that majority (76.7%) of the respondents' in the study area generally have adequate knowledge of climate smart agricultural practices though their mean adoption score (4.38) is critically low. This may be linked to the respondents' low level of literacy and the barriers affecting the adoption and utilization of climate agricultural practices. The study inferred that there is probably need for more awareness about the potentials of these practices in increasing agricultural productivity in the study area. Variables such as education, farming experience, size of farmland, access to credit and access to extension services were all significant at 0.05 level of significance. It is therefore recommended that extension officers, relevant agencies/associations should develop suitable policies that will encourage farmers' especially rural farmers' to adopt and utilize Climate Smart Agricultural Practices (CSAP). This will, in the mid and long term, help in boosting farmers' income and enhancing sustainable food security
References
Action Aid, (2008). The time is now: Lessons from farmers to adapting to climate change. Adaptation to climate change (pp. 17-19). Havana, Cuba.
Adebayo. A. A. (2010). Climatic change impact on Education. Vunoklang Multidisciplinary Journal of Science and Technology Education. 1(1):6-11.
Adejuwon, J.O. and Odekunle, T.O. (2006). Variability and Severity of the Little Dry season in Southwest Nigeria. Journal of Climate. 19(3):483-493.
Adekunle, V.A. (2009). Contributions of agroforestry practice in Ondo State, Nigeria, to environmental sustainability and sustainable agricultural production. Journal of Agroforestry and Silviculture. 4(3): 278-284.
AGRA (2014). Alliance for a Green Revolution in Africa. Africa agriculture status report 2014: Climate change and smallholder agriculture in Sub-Saharan Africa. Nairobi, Kenya.
Ayanlade, A. (2009). Seasonal rainfall variability in guinea savannah part of Nigeria: A GIS approach. International Journal of Climate Change Strategies and Management. 1(3):282-296.
Bazezew, A., Bewket, W. and Nicolau, M. (2013). Rural Households" Livelihood Assets, Strategies and Outcomes in Drought-Prone Areas of the Amhara Region, Ethiopia: Case Study in Lay Gaint District. African Journal of Agricultural Research, 8(1), 5716-5727.
Ezekiel, A.A., Olawuyi, S.O., Ganiyu, M.O., Ojedokun, I.K. and Adeyemo, S.A. (2015). Effects of climate change on cassava productivity in Ilesa-East Local Government Area of Osun State. British Journal of Arts and Social Sciences. 10(2): 153-62.
FAO, (2014).Climate-Smart Agriculture Sourcebook: food and agriculture. Organization of the United Nations, Rome, Italy.
FMAWR, (2008). Federal Ministry of Agriculture and Water Resources - National Programme for Food Security, FMAWR, Abuja, Nigeria, pp107
IPCC (2007). The physical science basis in: Solomon, S., Qin, D., Manning, M., Chen, Z., Marquis, M., Averyt, K. B., Tignor, M., and Miller, H. L., (eds) Contribution of Working Group I to the Fourth Assessment Report of the Intergovernmental Panel on Climate Change. Cambridge University Press, Cambridge.
Kehinde A.T., and Subuola B. F., (2015). Women and Cassava Processing in Nigeria. International Journal of Development Research, 5(2): 3513-3517.
National Population Commission (2006). National population and housing survey. National Population Commission, Abuja, Nigeria.
Nyoro, J.K. (2002). Kenya's competitiveness in Domestic Mize Prouction: Impictions ffor Food Security. Kenya. Journal of Agricultural Sciences, 5(10): 1-12.
Osoba A., Radeny, M., Morton, J.F. and Muchaba,T. (2019). Rainfall variability and drought characteristics in two agro-climatic zones: An assessment of climate change challenges in Africa. Science of the Total Environment. 6(30):728-737.
Owoeye, R.S. (2020). Factors Influencing Cassava Farmers' Choices of Climate Adaptation Strategies in Rainforest Agro-Ecological Zone of Southwest, Nigeria. International Journal of Environmental and Agriculture Research. 6 (3): 1-14.
Ozor, N., Umunakwe, P. C., Ani, A. O. and Nnnadi, F. N. (2015). Perceived impacts of climate change among rural farmers in Imo state, Nigeria. African Journal of Agricultural Research 10 (14): 1756 - 1764.
UN, (2017). United Nations, Department of Economic and Social Affairs, Population Division. World population prospects: The 2017 revision, key findings and advance tables.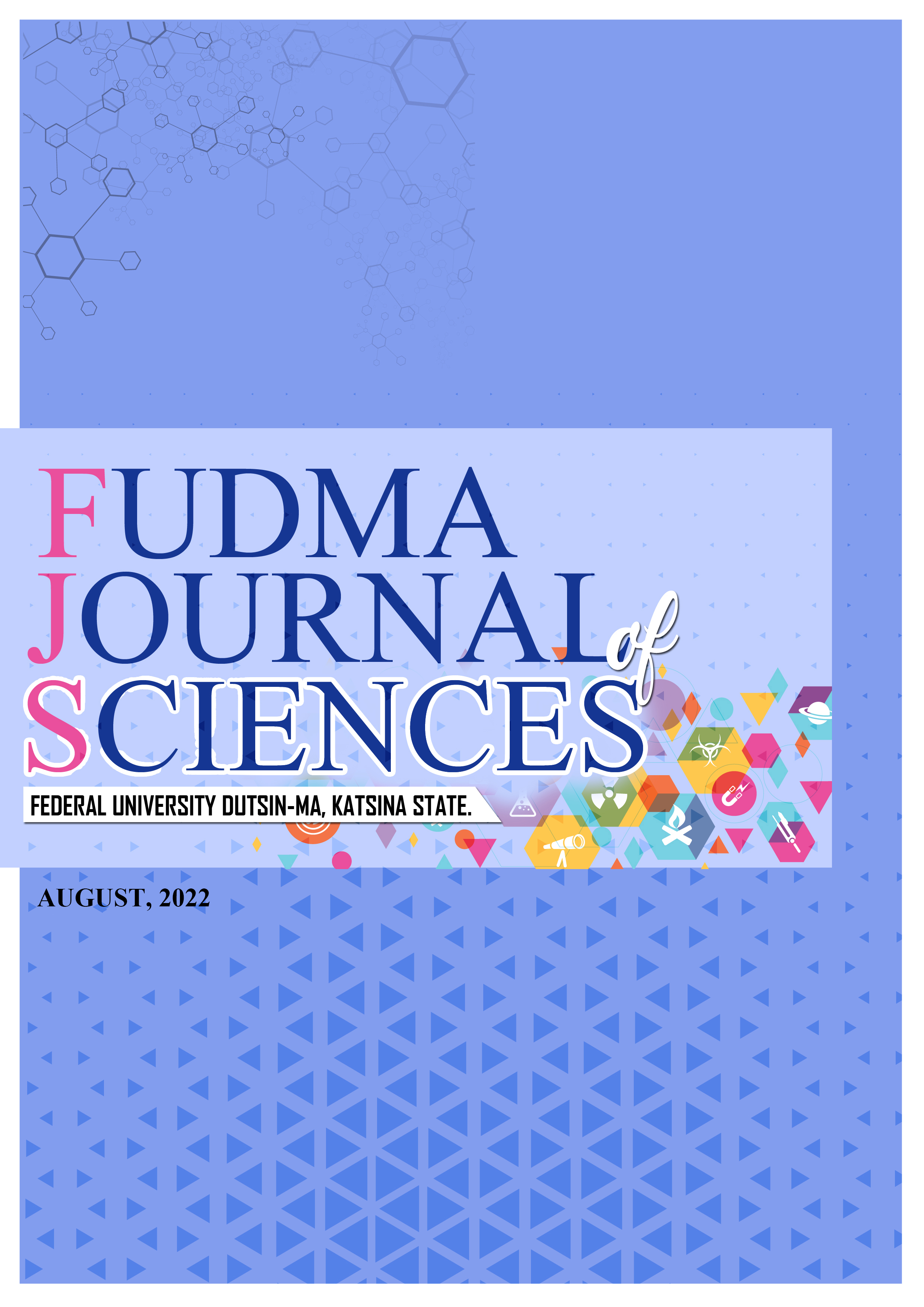 How to Cite
GBADEBO OLUBUKOLA VICTORY, OyewoleA. L., AnifowoseT. O., & IselobhorF. (2022). ADOPTION AND UTILIZATION OF CLIMATE SMART AGRICULTURAL PRACTICES BY CASSAVA FARMING HOUSEHOLDS IN IDO LOCAL GOVERNMENT AREA, OYO STATE, NIGERIA. FUDMA JOURNAL OF SCIENCES, 6(4), 107 - 111. https://doi.org/10.33003/fjs-2022-0604-1016
Section
Research Articles
Copyright (c) 2022 FUDMA JOURNAL OF SCIENCES
This work is licensed under a Creative Commons Attribution 4.0 International License.
FUDMA Journal of Sciences